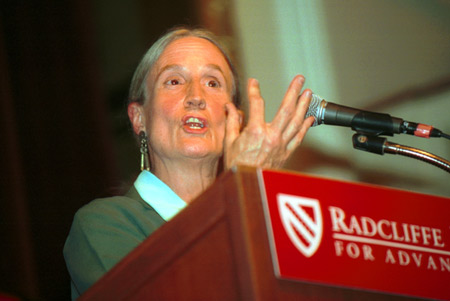 Donna Haraway, the prominent cultural theorist, has shifted her focus from genetic engineering, primatology, and cyborgs to dogs.
Yet there was nothing furry or tail-waggin' about her lecture Wednesday (April 24), part of the Dean's Lecture Series at the Radcliffe Institute for Advanced Study. Indeed, the title of her talk – "Cloning Mutts, Saving Tigers: Ethical Emergents in Technocultural Dog Worlds" – was a clue that she would be telling no shaggy dog stories.
Rather, Haraway, professor in the history of consciousness at the University of California at Santa Cruz and author of "A Cyborg Manifesto," introduced the audience to several elements of the "dog world" with the same political and ethical observations of nature and culture that have dominated her career.
As her work on cyborgs explored the intersection of human and machine, this lecture attempted to illuminate the relationships of humans and dogs, shedding light on both species.
If her rhetoric was occasionally elusive, Haraway maintained the audience's attention with her warm, self-effacing humor. She was, after all, talking about dogs, and she peppered her discussion with stories of her own Australian shepherds. She even has a T-shirt, she said, which declares "Because I'm an alpha bitch, that's why."
The author of five books, including "Modest_Witness@Second_Millennium: FemaleMan©_Meets_ Oncomouse™" (1997) and "Simians, Cyborgs, and Women: The Reinvention of Nature" (1992), Haraway drew from her current book project, "Birth of the Kennel: Cultures of Nature in Dog Breeding." The Radcliffe lecture was the second in a series at Harvard; on Tuesday (April 23), she spoke on "From Cyborgs to Companion Species: Kinship in Technoscience" at the Robert and Maurine Rothschild Distinguished Lecture in the History of Science.
With stories of dog breeders, dog trainers, and dog cloners, Haraway probed the love of the dog and the love of the breed.
"I would like to explore what might possibly be meant by love in a way that disrupts various romanticisms, troubles certain kinds of certainties about the relationship that we have with this other complex species, dogs, and perhaps leads us into a place I've tried to get throughout most of my work," she said. "That is, elsewhere."
She told the stories of several "breed activists," lay dog lovers whose passion for the breed led them deep into scientific research and activism.
C.A. Sharp, an Australian shepherd breeder in California, set out to prove that Australian shepherds are, contrary to expert opinion, susceptible to an eye disease, collie eye anomaly. Describing Sharp as "a savvy person of mixed literacy," Haraway told of her heroic efforts to educate herself, gather data and publish research to improve the health and longevity of Australian shepherds.
She gave other examples of breed love: Great Pyrenees activists working for open registry practices, and the Canine Diversity Project Web site, which seeks to educate breeders to the dangers of inbreeding.
The leap from canine diversity to dog cloning is not as long as one might think, Haraway said, with both rooted in the motivation to "save the endangered X," she said. She discussed a project to clone "Missy," a northern California dog who, as a mutt, is an endangered species of one.
Haraway cited a recent column by Ellen Goodman that discussed cloning in the context of the difference between what can be replaced and what must be mourned in our death-denying culture.
"Love of dogs is at least as much about understanding grief and loss and fallibility and frailty as love of each other," said Haraway.
Haraway brought her talk to a close with the folksy story of her godson, Marco, learning to train his dog Cayenne. First treating Cayenne "like his remote-control truck," said Haraway, Marco found greater success when he drew on his karate discipline to train his dog.
Haraway closed by challenging the audience to consider the larger implications of this hour-long visit to "dog land."
"How can you both engage in its ordinariness and use it to think about being more worldly in this connected way where any microcosm makes one more worldly if one treats its details with some kind of fidelity?" she asked.