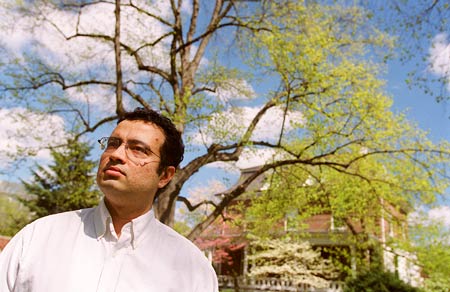 Ashish Rajpal's life journey has followed a meandering path. A native of India, he was launched on an international business career before a passion beckoned him to the Himalayas, then sent him to Harvard, where he's pursuing a master's in education at the Graduate School of Education (GSE) this year.
Next month, he'll shepherd 25 adults on part of their own life journeys, when Inward Bound, a self-exploration learning program he's founded, makes its inaugural foray into the Himalayas. The two-and-a-half-week course, which blends Indian thought, like Buddhism and the teachings of the Bhagavad Gita with Western ideas of social and behavioral science, is the product of Rajpal's studies in mind, brain, and education at the GSE.
Inward Bound is an offshoot of iDiscoveri, a youth outdoor education program Rajpal founded with a group of friends in 1996. At that time, living in Paris and working as a marketing director for a French corporation, he was beating a fast track up the corporate ladder.
"But in the meantime, I had children and started to think about what really matters," he said. A desire to address the state of education in his homeland – where he estimates just over half the population can read and write – beckoned.
Rajpal and his colleagues based iDiscoveri on the premise that "every person has a reason to be," he said, adding that traditional education, with its imposition of information, too often ignores this core belief. "We try to use experience and introspection to bring that [reason to be] out."
The Himalayas, where Rajpal spent many summers as a teenager, act as both classroom and, in a way, teacher. "Nature and outdoors do a lot to help children express themselves and adults to experiment with things they haven't done," said Rajpal.
After advising iDiscoveri from afar while continuing his corporate work in France, Rajpal convinced his wife to return with him and their two children to India, where he could focus his full energy on the enterprise.
Detour to Harvard
But first, Rajpal took a major detour: to Cambridge.
"Coming from the world of management and business, the world of education in a professional sense was new to me," he said. Reading up on children and learning, he kept stumbling across names like Hobbs Professor of Cognition and Education Howard Gardner and Professor of Education David Perkins.
The people who knew what he wanted to learn were all at Harvard. This fall, so was he.
"It's a gift, this opportunity for someone like me. It's just incredible," said Rajpal of his yearlong Harvard experience.
With a clear focus for his education, he's sought out and devoured courses that will enhance his Himalayan enterprise: Gardner's "Creativity and Morality," Perkins' "Cognition and the Art of Instruction," the mind, brain and education seminar by that concentration's director, Charles Bigelow Professor of Education Kurt Fischer. Rajpal cross-registered for courses at the Kennedy School of Government and Massachusetts Institute of Technology.
He's is especially passionate about Professor of Education Eleanor Duckworth's humbly named "Teaching and Learning," which tackles the subject of experience in education head-on.
Looking back, he said, "I'm terrified of the thought that I might not have found her course."
While Rajpal was picking up valuable lessons from his courses and teachers, he also picked up a partner: Anustup Nayak, another globe-trotting Indian pursuing a master's degree at the GSE this year. Nayak has become a valued member of the iDiscoveri team, said Rajpal.
"Being at the Ed School has contributed deeply to making this program happen," he said. "This wouldn't have happened if I hadn't been here."
East meets West
His experience at Harvard dovetailed with his own growing interest in Eastern spiritual thought to give birth to Inward Bound.
"Sometimes from a distance, your own culture starts to seem more meaningful," he said, adding that in his 30s, he's begun to explore India's spiritual roots. His education in India was firmly rooted in Western rational thought.
"That's good, except a lot of our own spiritual heritage that got lost in this rush for pragmatism," he added.
With Inward Bound, Rajpal seeks to marry the best of Eastern and Western thought to help its participants with life-goal planning. The program's Web site (http://www.inwardbound2002.com) describes the program as targeting "people who are faced with the challenge of discovering their true calling, looking for what really excites them, what will make best use of their talents and will drive them toward a fulfilling personal and professional life."
Part adventure travel, part spiritual retreat, Inward Bound will take its participants from the steamy city of New Delhi to iDiscoveri's "campus" in the Himalayan foothills and a remote lake at 14,500 feet surrounded by snow-capped peaks. While participants will hike and camp, Rajpal stressed that it's not an endurance course.
"All challenge is by choice," he said, adding that participants range in age from their 20s to their 50s and bring a diversity of physical abilities and limitations.
The course finishes with a trip to the Ganges River, "the Silicon Valley of spirituality," said Rajpal, and an obligatory tourist trek to the Taj Mahal.
India, a landscape and culture of extremes, provides what he believes will be the ideal classroom. As participants move from plain to mountain to river, they will progress through six educational concepts, from self-knowledge through action through service and devotion.
"It's an integrated kind of experience between the physical location, the curriculum, and the spirituality. I think it's well-meshed," said Rajpal. "This is an exercise in stepping out of your zone of comfort … mentally, physically, and culturally."
He believes that Inward Bound's first participants – an impressive and diverse group from around the world, nearly half recruited from the Harvard community – will gain self-knowledge from the experience. Inward Bound will bring them "a step closer to pursuing their true calling," he said. "We don't have the answers, but we can help them find the … answers."
'Fruitless action'
If spending a year at Harvard – leaving behind his wife, his children and a steady salary – has been challenge for Rajpal, it's paled in comparison to launching Inward Bound.
"It's been really hard doing that with the course work," he said. "But I was so sure that it was the right thing to do."
He describes a Sanskrit concept – "fruitless action" – that propelled this leap of faith.
"When you act, you shouldn't be thinking about the rewards," he said. "If you always have one eye on the scorecard, it's very hard to be doing your work."
If this principle informs the curriculum of Inward Bound, it also seems to have guided Rajpal's life journey so far.