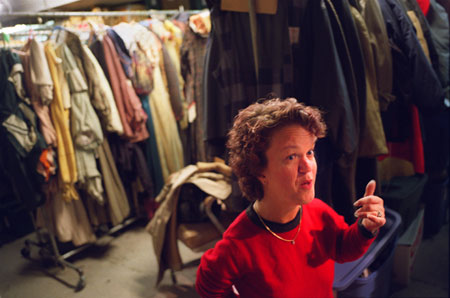 Marie Trottier has been in cereal and CD commercials, music videos and movies. She's played a debutante, a dictator, and Elvis, complete with a white jumpsuit and sunglasses.
She has also, in her 13 years as Harvard's disability coordinator, handled the very serious business of ensuring that the University remains open and accessible to students, employees, and visitors with physical, emotional, and mental disabilities, from blindness to dyslexia to chronic illness.
"One makes me appreciate the other," says Trottier of her two lives. "I love being at Harvard … but we all work very hard. So the acting thing is a release."
Trottier's acting career was launched by accident more than 10 years ago, when she got an out-of-the-blue call for a television show role as a Boston Celtics tryout (Trottier, who has achondroplasia, the most common cause of dwarfism, stands 4 feet tall). That led to a principal role in a national commercial: She played the Chocolate Monster in an ad for Count Chocula cereal.
"It's what's happened to me all my life: just being lucky, being blessed, being in the right place at the right time," she says.
Now, as the only person of short stature – her preferred term for her disability – who's a member of the regional Screen Actors Guild, she gets as much acting work as she wants.
"My first priority is to Harvard," she says, adding that she evaluates every opportunity not only for fun or financial potential but also for its compatibility with her schedule. "I could never take a job over Commencement."
She also turns down jobs that portray people of short stature in a degrading way. She once insisted that the highly offensive word "midget" be struck from a script, admitting that the tough battle taught her to review roles more closely before accepting them.
"If I'm going to degrade myself, if I've lost that kind of respect for myself, then it's not worth it," she says.
Trottier credits her upbringing, by two tall parents in a small town in Maine, with giving her the self-confidence that's led to her success and happiness. Although she was the only person in her community with a visible disability, "no one paid attention to it in a negative or derogatory way," she says.
Boys fought for the honor of carrying her custom-made footstool from class to class, and at high school parties, her classmates slow-danced on their knees so she could be the same height as everyone.
"I wasn't disabled because they didn't make me feel that way," she says. "So many of those things made me who I am today in terms of self-confidence and acceptance and really having a great life and enjoying life and doing all kinds of things." We serve the public interest! Interesting people, interesting jobs, interesting hobbies ‹ we want them in the Big Picture. If you have an idea for the Big Picture, give us a buzz at big_picture@harvard.edu