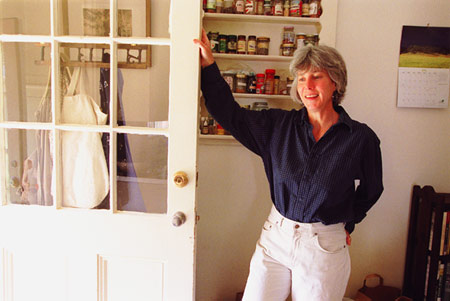 Writing is hard work for some. For others, it's a way to shout at the top of their lungs without getting arrested. For still others, it's a way to understand inner feelings in a process of "that's not right, that's not right – that's it."
For Jennie Rathbun, writing is agony.
"It's about the scariest thing you can do, because you're taking the deepest, scariest things inside you and turning them inside out for the world to see," said Rathbun, who works as a reference assistant in the Houghton Library.
Rathbun wields the keyboard as if it was hot, touching it reluctantly and cobbling together short stories in 15-minute increments, sometimes just a paragraph a day. It means endless revisions, endless smoothing of paragraphs that share a page but are written days apart.
And it means success. Rathbun was nominated for the Pushcart Prize in 1999 and took home the Inman Fiction Award in 2001.
Writing is hell, but Rathbun loves having written. Completing a story puts her on a two-week high, she said, and she sends copies of her latest to a circle of friends who serve as early readers.
"It's so great to have people read my stuff. I show it to everyone. I'd leave stacks of stories in the laundromat to get stuff read," Rathbun said.
Rathbun started writing reluctantly, prodded by time. Inspired by short stories she had read in her 30s, Rathbun finally took a writing course at the Cambridge Center for Adult Education in 1996. The class was taught by Arthur Golden, who would publish "Memoirs of a Geisha" in 1997.
Rathbun said Golden saw something in her and took her under his wing, inviting her to his house with other writers a year later for a workshop in which they had to produce three stories in eight weeks.
Though it went against her paragraph-at-a-time style, Rathbun wrote "The Ferris Wheel," published in the Notre Dame Review in 2001, in a day during that period.
Rathbun has written a total of 16 short stories, seven of which have been published. The most recent, "The Man in the Hat," is in the Spring/Summer 2002 issue of Soundings East, put out by Salem State College. Her stories have attracted the attention of at least one literary agent, who has expressed interest in working with her on a book of short stories.
Though she steers away from modeling characters on people she knows, Rathbun said she gets ideas from the world around her and from her own feelings. The characters in her stories are invariably flawed, struggling with life's grand issues: love, work, success, expectations – their own and others'. They're often somewhere in midlife, trying to figure out where reality diverged from their dreams and what to do about it.
"I don't believe in epiphanies at the end of stories because I've never had them. I think they're gimmicks," Rathbun said. "I like to take a character, load them up with stresses and see where their weak points are and see how they react. I look at the things we don't like to look at in ourselves." We serve the public interest! Interesting people, interesting jobs, interesting hobbies ‹ we want them in the Big Picture. If you have an idea for the Big Picture, give us a buzz at big_picture@harvard.edu