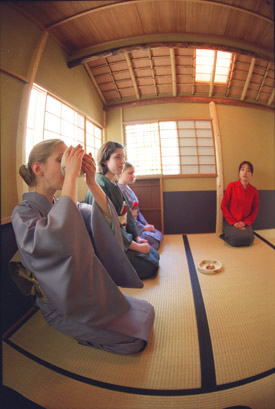 Who would suspect that an unassuming Greek Revival house, barely a Frisbee-toss from Harvard Divinity School, contains a doorway to another world?
It's hidden within the prim, boxy sunroom fastened to the building's west side, a room within a room, virtually invisible to passersby.
But make your way through the crowded office space inside, or clamber through the nijiriguchi (crawl-through doorway) around the sunroom's hidden side, and you will find yourself transported from 21st century Cambridge to the timeless world of traditional Japan.
This is the tearoom of the Harvard Chado Society, nearly 100 square feet of tranquility and aesthetic perfection dedicated to a tradition that goes back almost 500 years. It was built in 1998 with a $100,000 grant from the Urasenke Foundation of Japan. The room was designed by Yoshiro Terazono, a tea instructor and administrator of the foundation's New York branch, and built by Seiji Suzuki, a Japanese master carpenter.
The Japanese tea ceremony (or, as its practitioners prefer, the Way of Tea) was founded by Sen Rikyu (1522-1591), who sought to imbue the serving and drinking of tea with the austere and demanding principles of Zen Buddhism.
The Way of Tea is a lifelong study, as Aiko Rogers, the Chado Society's adviser will tell you. She studied in Kyoto with Sen Soshitsu, the 15th-generation descendant of founder Sen Rikyu.
According to Rogers, the tea ceremony contains such subtleties and is so integrally connected with the traditional Japanese arts, that even an adept like herself must continually strive to refine her abilities.
"I will have to study until I die. There is no end to it."
We serve the public interest! Interesting people, interesting jobs, interesting hobbies – we want them in the Big Picture. If you have an idea for the Big Picture, give us a buzz at big_picture@harvard.edu