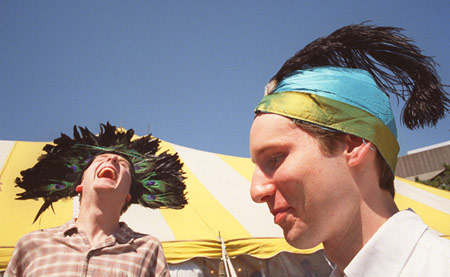 Fair weather, fanfare, food, and a certain amount of foppery were just the trimmings in the feast of arts events and exhibitions that marked this year's Arts First celebration. Starting off on a rather raw Thursday, the festival was, happily, greeted by warm and sunny weather for the following few days as talent staged a coup all across the University.
From the classy co-ed a cappella of the Callbacks to the inspired improvisational comedy of On Thin Ice to Scandinavian fiddle music, this year's offerings held the Harvard Square area enthralled. While classical music reverberated in the Fogg Art Museum Courtyard, Loker Commons was wailing the blues, and the Holden Chapel was filled with the spirit of Gilbert and Sullivan.
As much variety could be found in the dance recitals, plays, films, readings, and exhibits livening up every corner of the campus. Arts First 2003 will have a tough act to follow!