Harvard President Lawrence H. Summers visited the People's Republic of China from May 10 through May 14. Summers was accompanied on the trip by 13 Harvard faculty members who met with many Chinese scholars, including those with ties to various Harvard-related programs currently under way in China. Summers and the faculty members also met with Chinese government and education officials and Harvard alumni who gathered from across Asia.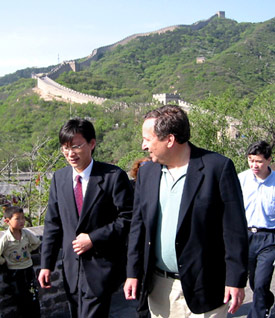 During the visit, Summers met with Chinese President Jiang Zemin. Jiang briefed Summers and Harvard faculty on China's education reform efforts, and noted that educational exchanges between China and the United States have great potential.
On May 12, Summers spoke at Tsinghua University and formally announced a program established in Beijing and Cambridge to train Chinese civil servants at the Kennedy School of Government. The new program will provide up to 60 of China's civil servants with an opportunity to develop additional functional expertise, strategic perspective, and management tools needed to operate effectively in a changing public policy environment.
Also on May 12, Summers addressed a group of Harvard alumni from across Asia who attended the Second Conference of the Association of Harvard University Alumni Clubs of Asia. The conference theme was "Asia in a Converging World: The Impact of Globalization on Economics, Environment, and Education." Summers told the alumni that Harvard University will cooperate more with foreign universities to encourage an international outlook among students.
On May 14, Summers delivered a speech at Peking University, where he addressed students and also met with President Xu Zhihong and the university's senior leadership.
At Peking University, Summers talked about the increasingly important role played by universities on the international stage. "If you think about the phenomenon of globalization, I believe that our special role today and the phenomenon of globalization are manifestations of a yet deeper transformation that is going on throughout the world. And that is this: Knowledge is becoming more central to every aspect of human activity than it ever has been before," Summers said.
He also offered his thoughts about how to ensure that universities attract the best professors and students. The most important thing, Summers said, is for a university to judge scholars by the quality of their ideas, not by some other measure. "This emphasis on judging ideas by their quality is finding its way throughout the world," Summers said. "People in business speak of the death of hierarchy. They speak of the rising importance of teamwork. They speak of the importance of emphasizing creativity. And dare I say this approach of judging ideas by their quality rather than their source has been something very important to the revolution that has taken place in China over the last 20 some years and to the enormous progress Chinese society has made."
Tsinghua and Peking universities are regarded as China's top universities. Peking University, also known as Beida, celebrated its centennial in 1998. It has over 21,000 students representing 62 countries. Over 2,100 faculty teach within six colleges. Its 4.5 million volume library is the largest in Asia. Tsinghua University, also known as the "M.I.T. of China," was established in 1911 and is one of the first universities to pioneer distance learning. It has 11 schools, 20,000 students, and 2,100 faculty.
Harvard University faculty who joined Summers on the trip were William P. Alford, Henry L. Stimson Professor of Law; Richard N. Cooper, Maurits C. Boas Professor of International Economics; Peter T. Ellison, professor of anthropology; William C. Hsiao, K.T. Li Professor of Economics in the Faculty of Public Health; William C. Kirby, Edith and Benjamin Geisinger Professor of History; Michael B. McElroy, Gilbert Butler Professor of Environmental Studies; Roderick MacFarquhar, Leroy B. Williams Professor of History and Political Science; Dwight H. Perkins, Harold Hitchings Burbank Professor of Political Economy; Anthony Saich, Daewoo Professor of International Affairs at the Kennedy School of Government; Wei-Ming Tu, Harvard Yenching Professor of Chinese History and Philosophy and of Confucian Studies; Ezra Vogel, Henry Ford II Research Professor of the Social Sciences; Ning Wang, associate professor of physiology and cell biology, School of Public Health; Shing-Tung Yau, William Casper Graustein Professor of Mathematics.