Stephen Jay Gould, Harvard's outspoken and often controversial paleontologist whose groundbreaking work on evolutionary theory – coupled with his award-winning writings – brought an expanded world of science to thousands of readers, died Monday morning (May 20) in Manhattan of metastasized lung cancer. He was 60.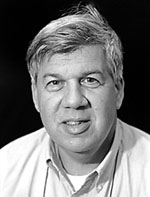 Gould, along with Niles Eldredge, a paleontologist at New York's Museum of Natural History, developed an evolutionary theory called "punctuated equilibrium," where long periods of evolutionary stability are broken by shorter spurts of evolutionary change, perhaps sparked by external events such as climate change or the impact of a comet. The theory contrasts with more traditional evolutionists, who believe evolution is a slow, steady process occurring at a nearly constant rate.
Gould, the Alexander Agassiz Professor of Zoology, spent his professional career at Harvard. He wrote widely on topics ranging from baseball to the Piltdown Man hoax to the Sept. 11 tragedy. He appeared on the cover of Newsweek in 1982, and colleagues called him "the bulldog of evolutionary biology" for his outspoken advocacy of his views.
"I am deeply saddened to learn of the death of Stephen Jay Gould," said Harvard University President Lawrence H. Summers. "The Harvard community and the world of science have lost a brilliant scholar whose research helped redefine our notion of who we are and where we came from. He was also a gifted teacher who brought important scientific ideas vividly to life for his students and for the wider public. We will miss him greatly, and we will continue to learn from his work for generations to come."
Jeremy R. Knowles, dean of the Faculty of Arts and Sciences, said, "Steve Gould was a star in Harvard's firmament. He was an intellectual and a scholar who inspired our students in lectures, and who wrote with a wonderfully engaging lucidity for the wider public. The world is a sadly duller and a less informed place, without him."
Richard Lewontin, Alexander Agassiz Research Professor of Zoology and research professor of biology, was a friend and colleague of Gould's for 25 years; they taught a course on evolution together. "Steve's importance was twofold. He was very creative and original in his studies of evolution. He was an expert at taking new discoveries and applying them to an understanding of evolution. Steve had a good feeling for the complexity and variation involved in evolution. He never tried to simplify it to a cartoon," said Lewontin.
"Secondly, he was the best science writer for the public when it came to explaining evolution. Steve did not try to make it simple, he tried and succeeded in explaining the complications. He made readers appreciate how messy and variable life is. Rather than being a popularizer of science, Steve always told the truth in ways people could understand, and he did it better than anyone," Lewontin added.
Andrew Knoll, Fisher Professor of Natural History at Harvard, said, "Steve Gould always seemed larger than life. His ideas, powerful and commonly controversial, inspired Ph.D. theses for three decades. I'm not sure he ever thought a small thought in his life. At the same time, Steve was a wonderfully warm man who loved teaching, cared deeply about his family and friends, and, not least, took his music very seriously. On a personal note, Steve was one of my teachers, and a friend and colleague for 20 years. It's hard to imagine Harvard without him – I will miss him tremendously."
Jeremy Bloxham, professor of geophysics and chair, Department of Earth & Planetary Sciences, said, "Steve was a truly exceptional individual who combined a brilliant career in research with a remarkable ability, in fact an unrivaled ability, to communicate science to the public, bringing alive through his extraordinary eloquence the richness and excitement of science."
Andrew Biewener, Charles P. Lyman Professor of Biology and chair of the Deptartment of Organismic and Evolutionary Biology, said, "In the field of evolutionary biology, Stephen Gould was a giant. His work and views on the history of life and evolution as a process, were enormously influential and prolific. Few have his ability to articulate so well the fascination, understanding, and history of evolution and its study to both academic and public audiences. He will be greatly missed by the field of evolutionary biology and by Harvard."
Gould's research focused on invertebrate paleontology, specifically the growth and form of land snails. His work brought him frequent honors, including the Schuchert Award for excellence in paleontological research for a paleontologist under age 40 in 1975.
Born Sept. 10, 1941, in New York City, Gould received his A.B. from Antioch College in geology in 1963. He received a doctorate from Columbia University in 1967.
He became assistant professor of geology and assistant curator of invertebrate paleontology at Harvard in 1967. He was promoted to associate professor of geology and associate curator of invertebrate paleontology in 1971 and to professor of geology and curator of invertebrate paleontology in 1973. In 1982, he was named the Alexander Agassiz Professor of Zoology.
Gould received many honors over the years, including more than 40 honorary degrees from institutions as varied as Rutgers University, the University of St. Andrews in Scotland, and his alma mater, Antioch College.
Among his other accolades, he was named "Scientist of the Year" by Discover Magazine in 1981, received the Medal of Excellence from Columbia University in 1983, the Silver Medal from the Zoological Society of London in 1984, and the Gold Medal for Service to Zoology from the Linnean Society of London in 1992. He received recognition from the national associations of both biology and geology teachers, and, in 1997, the Distinguished Scientist Award from the University of California, Los Angeles, from The Center for the Study of Evolution and the Origin of Life.
Gould's writing has made his a household name. He published many volumes of books as well as hundreds of essays in national newspapers and magazines on any of a host of scientific topics. He received the National Book Award in 1981 for "The Panda's Thumb," the National Book Critics Circle Award in 1982 for "The Mismeasure of Man," the Phi Beta Kappa Book Award in Science for both "Hen's Teeth and Horse's Toes" in 1983, and "Wonderful Life" in 1990. He received the Rhone-Poulenc Prize in 1991 for "Wonderful Life" and the Golden Trilobite Award for excellence in paleontological writing from The Paleontological Society.
"Gould is a master at prodding beliefs and provoking doubts. The joy is that you start to look at the world a little differently," wrote The Denver Post about his book "The Lying Stones of Marrakesh" (2001).
The Boston Globe, reviewing the same, wrote, "Like the movement of a Baroque concerto, his essays swell in elaborate arcs and curlicues before coming to rest at the last moment in a ringing reunion of themes."
Gould's most recent book, "The Structure of Evolutionary Theory" (2002), is a 1,433-page opus that took him more than 20 years to complete. At a reading and booksigning at the Harvard Museum of Natural History shortly after the book's publication, Gould said that when he was diagnosed with cancer in 1982 he believed he had "almost zero chance of finishing it."
Gould is survived by his second wife, Rhonda Roland Shearer, and by two children from his first marriage, Jesse and Ethan.
The family has requested that no flowers be sent. Gould was a trustee of the Alexandria, Egypt, Library, and memorial contributions may be sent to the Alexandria Library Scholars Copyright Fund, care of Rhonda Shearer, 62 Greene St., New York, N.Y. 10012.
A memorial service, open to the public, will be held on Thursday (May 30) in New York City at 4 p.m. in Vanderbilt Hall at New York University, 40 Washington Square South. A memorial service also will be held at 3 p.m. Thursday, Sept. 26, at Harvard's Sanders Theatre.