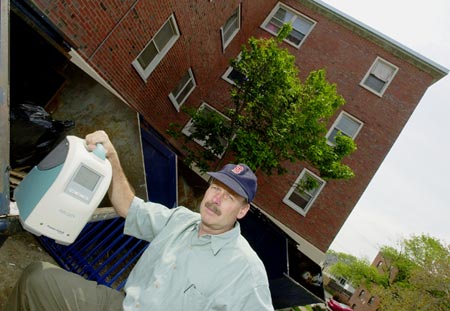 An unusual collaboration of academic, government, and citizen organizations including the Harvard School of Public Health (SPH) is taking aim at the asthma epidemic raging in the United States by seeking solutions in Boston's public housing projects.
The collaboration, called the Healthy Public Housing Initiative, combines a new spirit of tenant and management cooperation to attack public housing problems with a focused effort to improve sanitation, pest control, ventilation, heating, and indoor air quality linked to the onset of asthma.
Jack Spengler, the Akira Yamaguchi Professor of Environmental Health and Human Habitation in SPH's Department of Environmental Health, said the collaboration brings together groups that are often at odds, such as public housing management and tenant organizations.
"There's combinations of groups that are not natural allies … all scrambling to do good," said Spengler, who is helping coordinate the initiative. "I think one of our major accomplishments is we've coalesced around a common goal."
Nicolas Retsinas, director of Harvard's Joint Center for Housing Studies and co-chair of the initiative's Advisory Committee, said the effort reflects a new awareness that housing is more than just a roof over someone's head and that it can have a significant impact on health. One of the initiative's goals, he said, is to provide documentation of that linkage that can be used to advocate for healthy improvements in housing.
"There's a growing realization that housing is more than just housing," Retsinas said.
The initiative, which will also seek energy efficiency improvements, unites the School of Public Health with the Boston University School of Public Health and Tufts University School of Medicine. The three academic centers are joining forces with Boston's largest landlord, the Boston Housing Authority (BHA), as well as with the Boston Public Health Commission, the Committee for Boston Public Housing, the Franklin Hill Tenant Task Force, Peregrine Energy Group, South Boston Community Health Center, Urban Habitat Initiatives, and the West Broadway Tenant Task Force.
Kate Bennett, director of the BHA's Planning Department, said the aim is to find cost-effective solutions that can guide the BHA as it plans its management and capital investment strategies. If successful, she said, not only could these guidelines be used throughout the city of Boston, but potentially nationwide as well.
James Hoyte, assistant to Harvard's president, associate vice president, and adjunct lecturer in public policy at the Kennedy School of Government, is on the Initiative's Policy Advisory Committee. Hoyte said the effort addresses important environmental justice issues and illustrates the importance that those in academics work to apply as well as generate knowledge.
"The opportunity to have a positive effect on people's lives I think is what it is all about. Knowledge generation is critically important, but it's also critical what you do with that knowledge," Hoyte said.
Asthma is one of the most common chronic conditions in America, afflicting about 15 million people and causing 5,000 deaths annually, according to the National Institutes of Health. Asthma rates have been on the increase, rising by 75 percent from the early 1980s to the mid-1990s. Asthma disproportionately affects children and African-Americans, and is especially prevalent in low-income populations.
The prevalence of asthma in Boston's neighborhoods reflects national trends with higher rates in poorer neighborhoods. The rates of asthma hospitalization in Boston's Roxbury section between 1994 and 1997 were the highest in the city, about six to eight times that in wealthier Back Bay.
While much research on asthma remains to be done, Spengler said enough is known about the condition to formulate a comprehensive plan of attack. The program marshals resources from a variety of corners, including grants from the federal Department of Housing and Urban Development, the W.K. Kellogg Foundation, the Jessie B. Cox Charitable Trust and The Boston Foundation, and donations such as new allergy-reducing bedding from Simmons Co. and air filters from Sharper Image Co.
The effort is currently recruiting 60 families, each with an asthmatic child, in the Franklin Hill public housing project in Dorchester. They will evaluate the families before any steps are taken to reduce potential asthma triggers and then plot an aggressive course to improve air quality in the families' units, including adding air filter systems, improving ventilation, removing molds and other potential asthma triggers. The families, who are being recruited now, will then be followed for several months to see if asthma symptoms improve.
The initiative also includes several other factors, such as a pest management effort, in which buildings in Franklin Hill will be asked to help eliminate rodents and cockroaches, and an agreement by the Boston Housing Authority to fix roofs and basements three years ahead of their regular maintenance schedule.
Spengler said the effort will hopefully prove that it's cost-effective to provide healthier housing and avoid asthma-related emergency room visits, which can cost between $1,200 and $1,500 for an overnight stay. He said he's looking for ways to shift health-care dollars to the kinds of physical improvements that can ease asthma, as preventive health care measures.
Spengler said an important facet of the initiative is its involvement of public housing tenants. Tenants are often silent about housing issues because they're afraid of being ejected and having no place else to go. The management-tenant groups formed through the initiative will hopefully become permanent and will examine quality-of-life issues throughout Boston's public housing system.
"We're saying forget the blame, let's get to work to solve the problem," Spengler said. "The goal here is to make this sustainable. Our real proof will be if we've empowered the tenants to participate and if we've left the BHA able to work well with its sister organizations with strategies to provide healthier housing."