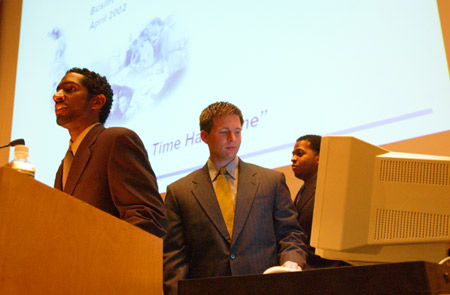 Harvard Business School (HBS) students Matthew Mugo Fields '02 and Lucas Klein '02 and their business partner Jason Green like to begin their business plan presentations with a question: How does the U.S. Government forecast prison growth?
The answer – by looking at third-grade literacy rates – compelled the trio to launch BEST Education Partners, a for-profit education management company operating charter K-12 schools.
"We have a commitment and passion to making sure that we build fewer prisons," said Fields.
Commitment, passion, and more than a little education and business savvy netted BEST Education Partners top prize in the social enterprise track of the Harvard Business School Business Plan Contest. At the awards ceremony Monday (April 29), the young company took home a $20,000 prize, half cash and half in-kind accounting and legal services.
Launched six years ago, the Business Plan Contest is the capstone of the Business School's MBA Entrepreneurship curriculum. Not surprisingly, past contestants – winners as well as also-rans – have launched successful and profitable ventures after graduation.
The esteemed panel of judges were no doubt confident that FishLogic, a semiconductor company and this year's traditional track winner, will follow in the footsteps of fabled HBS alumni entrepreneurs like Michael Bloomberg (HBS '66) or Staples' Tom Stemberg (HBS '73).
Social enterprise companies like BEST Education Partners, on the other hand, are evaluated by what Professor Allen Grossman called "the double bottom line" of social impact as well as financial viability. Although businesses with social impact have participated in the contest since its inception, they got a separate award category two years ago.
While BEST Education Partners is a for-profit enterprise, its founders are driven by mission as much as money.
"This is a culmination of a lot of work and thought since way before we were in business school," said Klein. "This is a manifestation of a life mission."
Fields (who is doing a dual degree with the Graduate School of Education) and Klein came to HBS with the specific goal of founding this company, and Green is pursuing his own joint education and business degree at the University of Pennsylvania.
The company will target charter schools, traditionally started by concerned citizens rather than school systems, to provide the educational and business expertise to run those schools. They're currently seeking funding to pilot two schools – Boston, New York, and Philadelphia are their sites – within the next two years while building the infrastructure of their business.
"We see this as a unique opportunity to leverage market forces to address a social problem," said Fields of the growing popularity of charter schools.
Business school jargon aside, the founders come by their passion honestly, drawing on their own experiences. Fields and Green started a company in Atlanta that ran after-school and enrichment programs for kids.
"We got these kids really excited about learning," said Fields. "But then we sent them back into broken schools."
Fields' personal experience in "broken" schools informs BEST Education Partners, too.
"In many ways, I'm the target market: a poor black kid," he said. As an immigrant from Barbados in a Philadelphia-area public school, he was discouraged from believing he could succeed. He credits the "heroic efforts" of a teacher and his mother for pushing him to Morehouse College and ultimately to Harvard.
"I 'made it,' but a lot of kids I grew up with didn't," he said. "We have to institutionalize what made me get to Harvard. That's what our business is about."
While Fields takes some guff from his GSE classmates at BEST Education Partners' for-profit status, the founders say the model allows the company to attract and reward people who create value for their learning environment.
"If this now means that I can give teachers stock options and help up their pay, I think that's a good thing," said Fields.
"'Nonprofit,' 'for-profit' is a tax status. What matters is performance," he added. "The state of our schools is severe enough that we have to be trying as many different innovative things that we can."