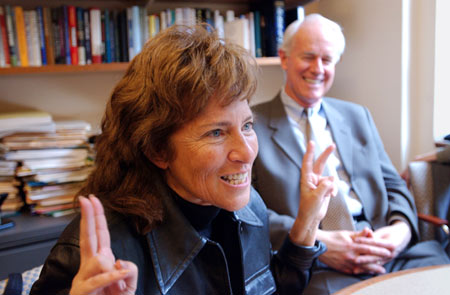 Two people who have spent much of their lives working to challenge and correct social injustice were recognized this past Tuesday (April 30) at an award ceremony organized by the Kennedy School's Center for Public Leadership.
Mike Farrell, actor and death penalty opponent, and Mimi Silbert, co-founder and CEO of Delancey Street, a highly successful drug rehabilitation center, shared the $100,000 Gleitsman Foundation Citizen Activist Award.
Farrell, best known for his role as Capt. B.J. Hunnicutt on the hit CBS series "M*A*S*H," and currently as veterinarian James Hansen on NBC's "Providence," is also president of Death Penalty Focus of California, an organization dedicated to the abolition of the death penalty, visiting death row inmates, and lobbying political bodies worldwide. He is also co-chairman of the California Committee of Human Rights Watch, participating in fact-finding missions from El Salvador to Bosnia to Rwanda.
"The thing I find intolerable is when people are rendered invisible in our society," Farrell said at a press conference before the award ceremony. "It's disgusting that we tolerate for a moment that certain individuals don't matter."
Farrell has also been active in Amnesty International, the ACLU, the United Farm Workers, Greenpeace, the Special Olympics, and was recently elected first vice president of the Screen Actors Guild.
Farrell said he has mixed feelings about the award. On one level, receiving praise for his public service activities causes him some discomfort because, "when you attain some success in the entertainment industry, you tend to get a lot of goodies. But on another level, it's deeply touching and thrilling to be told, 'We see what you've done and we recognize you for it.'"
Farrell, who is a producer, writer, and director, as well as an actor, was accompanied by his wife, actress Shelley Fabares.
Silbert's organization, Delancey Street, has been called "the best and most successful rehabilitation program in the world" by psychiatrist Karl Menninger. Silbert said that the key to the organization's success, insofar as there is one, is simply giving people responsibility and thus developing their sense of self-worth.
"The organization is run completely by the people who are the problem. There's no funding and no staff. This forces people with problems to learn how to be the solution," she said.
Delancey Street, which is based in San Francisco, supports itself through businesses that are owned and operated by recovering addicts. These include a moving company, a furniture manufacturing company, and a restaurant.
"It's important for people to have a sense of ownership. When you own something, you're a lot more careful to do it right," she said.
In the 30 years of its existence, Delancey Street has graduated 15,000 ex-drug addicts, prostitutes, and convicted felons into useful lives. Known as "the Harvard of the underclass," the organization has helped its residents achieve academic credits and marketable skills and to enter professions that include sales, real estate, building trades, and even law enforcement.
Established in 1989 by Alan Gleitsman, an entrepreneur in the television industry, the Gleitsman Foundation recognizes and encourages leadership in social activism worldwide. The foundation sponsors several awards while also encouraging many grassroots organizations.
In 1996, Gleitsman signed an agreement with the Kennedy School to establish the Gleitsman Program for Social Activism. This program administers the Citizen Activist Award as well as several other activities through the Center for Public Leadership.