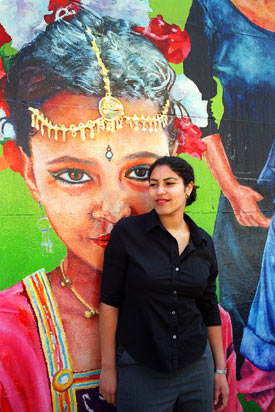 Ada Jane Maxwell '02 likes to focus on things that bring people together, not keep them apart.
"During my four years at Harvard, I've learned to break away from stereotypes and not overemphasize race. Instead, I've tried to branch out, experience other people's cultures, and try to understand them," she said.
Maxwell is the recipient of the Harvard Foundation's Director's Award, given each year to a senior who has done the most to enhance intercultural and race relations in the Harvard Community.
Maxwell's activities include helping to organize Cultural Rhythms and the Harvard Foundation's annual science conference. She has also served on the board of the Harvard African Students Association, participated in Women in Science at Harvard-Radcliffe, and performed with the Kuumba Singers.
A social anthropology concentrator who is writing her senior thesis on race relations in Maritime Canada, Maxwell plans to begin graduate school in September at the University of Toronto, where she will earn a master's degree in medical anthropology, specializing in minority health issues. After that, she hopes to enter medical school and pursue her lifelong dream of becoming a doctor.
Harvard Foundation director S. Allen Counter said of Maxwell: "She's done an incredible job. She's a prime example of the kind of student who makes the work of the foundation possible. Ada's always been up there at the forefront, making sure the creed of the foundation is carried out."
Perhaps Maxwell's impulse to build bridges between groups stems in part from the fact that she encompasses several groups within herself. Maxwell's father was a Ghanaian doctor; her mother is an Irish-Canadian nurse. They met while working in a hospital in Montreal, married, and moved to Ghana. Five years later, they returned to Canada, settling in a small French-Canadian fishing village in New Brunswick where Maxwell grew up.
Surely, people with that particular combination of factors cannot be especially numerous. Yet Maxwell belongs to still another category so rare as to probably warrant Guinness Book of Records status in itself. She is one of five sisters, all of whom have either graduated from, are attending, or will attend, Harvard.
Two of her older sisters, Cynthia '92, M.D. '97 and Linda '96, are now practicing medicine, while a third, Rita '98, is practicing law. Her younger sister Dina will be a freshman at Harvard this September
"People always ask me, what did your parents do to get you all into Harvard? I guess it was just that we were a very close-knit family. There was a great sense of security and stability at home. But my parents always discussed world events with us so we would learn what went on beyond the confines of our home. They taught us to think critically and to believe that we could change things. I didn't fully appreciate what they'd given us until I left and was able to look back."
Maxwell's older sisters were all active in the Harvard Foundation and recommended that she give it a try. Following their advice, she got involved in foundation events as a freshman and continued working with the organization for four years.
"It ended up being the best part of my college experience," she said.
Maxwell said she has always felt a desire to give back to society as well as to recognize individuals who might be overlooked. She said that the foundation provided a channel that allowed her to accomplish those goals.
Maxwell feels that the foundation fills a need in the Harvard community that no other organization addresses.
"The Harvard Foundation celebrates diversity," she said. "Harvard has over 40 different ethnic groups. The question is, how do we bring them together? No other campus organization achieves that goal as effectively."
Maxwell praises the foundation's inclusive, welcoming atmosphere.
"It's a great place for everyone, not just minorities. Everyone is invited to our events. It's a very healthy and warm environment, and that quality spreads out through the campus."