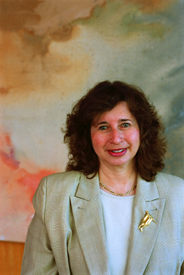 For Nancy Rosenblum, liberalism is more than just a political philosophy to be studied and taught, it's an ideal to be put into practice.
Rosenblum, a professor of government in the Faculty of Arts and Sciences, is one of the foremost authorities on 19th century liberalism. Unlike most political theorists, however, Rosenblum links her historic and philosophical research to the modern era and to institutions such as today's political parties.
"She is one of the most wide-ranging political theorists – both in approach and in substance. There are few scholars who write so well on the history of political theory and at the same time engage so perceptively on the central issues of contemporary political science and political life," said her colleague Dennis Thompson, the Alfred North Whitehead Professor of Political Philosophy. "The range of challenging subjects she's taught and written about is quite remarkable."
Rosenblum wrote a book on Jeremy Bentham, the founder of utilitarianism, and has also written on liberalism's links to romanticism. One of her more recent works, 1998's "Membership and Morals," links political theory with modern practice, examining the role that voluntary associations play in our society and defending the right of individuals to associate with those with whom they share interests.
As an outgrowth of that work, she is currently studying political parties, examining how and why they are treated differently, bound by restrictions and regulations, from other societal groups.
Rosenblum puts her theoretical and scholarly work into everyday practice through a seat on the board of the Massachusetts Chapter of the American Civil Liberties Union (ACLU).
Rosenblum said she believes the ACLU is one of the "most important public interest groups in the country" because it works to protect freedoms granted under the Bill of Rights. Further, she said, the organization acts on behalf of people of all political stripes and causes, popular and unpopular. Recent work to defend due process for the accused may be unpopular, but it's important, given the swing in public sentiment against the rights of the accused after Sept. 11.
"It has a long history of fighting on all sides to preserve the Bill of Rights from attacks," Rosenblum said.
Scholars' Rocks
In addition to her academic work, Rosenblum toils in the world of art. When her husband, Richard Rosenblum, died of cancer two years ago, Rosenblum assumed management of his nearly 1,000-piece collection of Chinese sculpture.
The sculpture, Chinese Scholars' Rocks, is a traditional form of art through which rocks are carefully sculpted and mounted on elaborate wooden bases. The rocks appear natural in form, but organic in shape. Rosenblum has organized the collection and manages it. Many pieces from the collection have been given as gifts and loans to the Metropolitan Museum of Art, the Museum of Fine Arts, and the Frier Museum in Washington, D.C., where they are on view.
Rosenblum came to Harvard in January 2001 after more than two decades at Brown University, where she was appointed professor of political science in 1980. She chaired the Political Science Department there from 1989 to 1995 and was named the Henry Merritt Wriston Professor in 1997. She also founded and directed the Stephen Robert Initiative for the Study of Values at Brown.
But Rosenblum's appointment here was as much a homecoming as it was a new post. Rosenblum was an undergraduate here, receiving her bachelor's degree from Radcliffe College in 1969. She received her doctorate in political science from Harvard in 1973 and served as the Henry LaBarre Jayne Assistant Professor and as associate professor in the Department of Government before heading to Brown.
"I'm a pure product," Rosenblum said.
The months since her return have been odd at times, she admits, because she spent such an important time in her life here. Returning to teach in buildings in which she once had classes and met friends, she said, is sometimes like a walk down memory lane.
"There's an odd evocativeness of everything about Harvard," Rosenblum said. "Every building has a resonance. It's like reliving your past at every turn. It has been very strange coming back here."
Rosenblum said she'd always been interested in social studies, but it was a political theory course taught by Judith Shklar when she was a junior that convinced her to study political theory.
"The story is a little bit of intellectual movement on my part and a great teacher," Rosenblum said.
Harvey Mansfield, the William R. Kenan Jr. Professor of Government, who taught Rosenblum as an undergraduate and graduate student, and worked with her when she was a junior faculty member, said it's good to have her back. Not only is her scholarship welcome, he said, but her energy is as well.
"She's always been a favorite here. It's very gratifying to see a young woman move so rapidly into the highest esteem of our profession," Mansfield said.