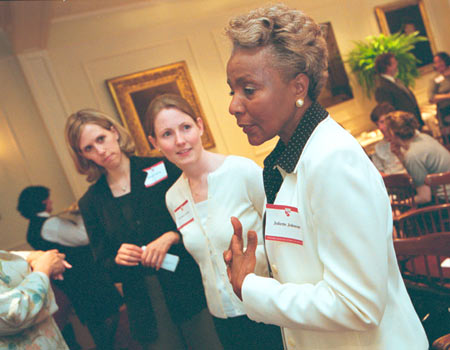 Five Boston and Cambridge public school teachers have received 2002 – 03 James Bryant Conant Fellowships to study for one year at the Graduate School of Education (GSE). The Conant Fellowships, established in 1986 at Harvard's 350th anniversary, support the professional growth of outstanding Boston and Cam-bridge public school teachers and administrators who have shown commitment to public education and demonstrated leadership potential. The fellowship is named for James Bryant Conant, Harvard president from 1933-1953, a dedicated supporter of public education and a strong advocate of school reform.
2002-03 Boston Conant Fellows
For the past nine years, Marilyn K. Bernstein has taught in the Boston Public Schools as a special education resource room teacher at the O.H. Perry School in South Boston, and previously as an early childhood special needs teacher and evaluation team leader. She has also worked in the school system as an early childhood liaison and a kindergarten teacher. She has served Boston Public Schools for a total of 21 years. She has acted as liaison between the O.H. Perry School and Boston Ballet, securing tickets to performances for students and their families. She has been a member of the Student Support Team at O. H. Perry. She has been a Boston Ballet boutique volunteer and parent volunteer at the Wang Center. Bernstein will seek a Certificate of Advanced Study in Early Childhood Education.
Christine Cronin has been a bilingual teacher in grades 3 – 5 in a two-way program at the Rafael Hernandez School in Roxbury for the past three years. She has served as a fourth grade bilingual teacher in a two-way program at the Bailey International School in Lowell, and been a special education assistant in an integrated kindergarten at the Lincoln Eliot School in Newton. Cronin is co-chair of the School Site Council and a mentor teacher to a student teacher at Tufts University. Cronin will pursue a self-designed master's degree in the Individualized Program.
Since 1998, Kristy A. Ludwig has been a guidance counselor at Brighton High School, where she has also taught psychology and "Skills for Success" and worked on curriculum development instruction. In her work as a counselor, she addresses personal, academic, career, and vocational issues. Ludwig has taught life skills and worked on curriculum development and instruction at Boston University's Upward Bound summer programs. She has also served as director for the Shelburne Community Center in Roxbury, where she coordinated a summer program for 5 – 12-year-olds. Ludwig has been director of the Books and Basketball Tutoring Program since 2000, and a counselor at the Career Center Evening Program at Brighton High School since 1998. She will seek a Certificate of Advanced Study in Risk and Prevention.
2002-03 Cambridge Conant Fellows
Jill Harrison Berg is a continuing doctoral candidate in Learning and Teaching at GSE; she currently holds the James Bryant Conant and Roy E. Larsen fellowships. For seven years, she taught seventh and eighth and multigraded fifth/sixth grades at the Cambridgeport School. She has also taught fifth grade at the Shady Hill School, and first and third grade at Escola das Nacoes in Brasilia, Brazil. Berg is a teacher-researcher for Project Zero's Making Learning Visible Project and serves as a clinical supervisor for Simmons College student teachers. Her publications include "Traveling Portfolios for Adolescents: A Window for All in the Middle School Year" by Evangeline Stefanakis with Jill Harrison Berg, and "The National Board Certification Candidate Resource Binder" for the Mass. Department of Education. She is chairperson of the Spiritual Assembly of the Boston Bahá'í Community. Berg has served as a Cambridge Teachers' Association building representative, Middle Grades Team leader, Upper School Study Committee chairperson, Harvard Project Zero collaborator, School Support Team member, and mentor teacher for new and student teachers.
Betsy L. Damian has taught kindergarten at the Tobin School in Cambridge since 1989. She is a teacher and consultant at Bright Horizons. She has been an adjunct faculty member at both Wheelock and Lesley Colleges, supervising student teachers and coursework, and has experience as a preschool and toddler teacher. She is the author of "One Hundred Languages of Children" (Ablex Publishing, 1994). For the past four years, Damian has acted as a mentor teacher to Haitian school teachers. She has been both a nominee (1999) and finalist (2000) for the Crystal Award for Excellence, and is presently a recipient of a grant from the Cambridge Arts Council. At GSE, Damian will seek a master's degree in Arts in Education.