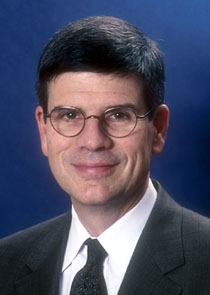 William C. Kirby, Geisinger Professor of History, will be the next Dean of the Faculty of Arts and Sciences (FAS), President Lawrence H. Summers announced today.
A scholar of China, and a professor at Harvard for the past decade, Kirby is the director of the University's Asia Center and former chair of the History Department. He has regularly taught popular Core courses, written widely on modern China and its development, championed recent efforts to promote study abroad, and been a leading figure in international studies at the University.
"Bill Kirby is a person of extraordinary wisdom, with an outstanding record in a series of leadership roles within the FAS," said Summers. "He is widely admired within the Faculty, having served with exceptional effectiveness and energy as chair of the History Department and now as director of the Asia Center. He's not only an influential scholar of China, but also a devoted teacher and mentor, with a strong interest in the quality of both undergraduate and graduate education. I have every confidence that his keen intellect and high standards, his collegiality and openness, his deep respect for academic values, and his appetite for thoughtful innovation will make him an excellent leader of the FAS in the years ahead."
"It is an honor and a privilege, not to mention a challenge, to be asked to lead this great faculty and student body," Kirby said. "The FAS has a wonderfully diverse set of missions. Harvard College offers a liberal arts education second to none, and it is at the heart of the entire University. The Graduate School trains future scholars for this country and for the broader world. The Division of Engineering and Applied Sciences puts science in the service of human society. The Extension School makes a Harvard education available to our wider community. In all its parts, the Faculty of Arts and Sciences has been strengthened greatly under the deanship of Jeremy Knowles.
"This is an exciting time for Harvard," Kirby continued. "We have a dynamic new president in Larry Summers; we are rethinking our undergraduate curriculum; and we are expanding the faculty significantly. I look forward to working with Larry, with my colleagues in the Faculty and around the University, and with our fabulous students, as we strive to make Harvard better still."
Kirby came to Harvard as Professor of History in 1992, and has been the Geisinger Professor of History since 1999. He chaired the History Department from 1995 to 2000, earning widespread praise for stimulating new faculty appointments and curricular reform. Since 1999 he has served as director of the University's Asia Center, playing a lead role in fostering collaboration among Asia scholars across Harvard. He chaired the search for a new Harvard College Librarian in 1995-96, and was co-chair of the faculty-alumni FAS International Studies Committee formed in 1998. He has recently served as a member of the FAS Resources Committee and of the Board of Syndics of the Harvard University Press. Along with Professor William Fash, Kirby was an architect and exponent of the plan approved this spring to enhance opportunities for students in Harvard College to study abroad.
Kirby received his bachelor's degree from Dartmouth, summa cum laude in history, in 1972, having studied also at the University of Mainz (Germany) and at Wellesley College during his undergraduate years. After a year's graduate study at the Free University in Berlin, he became a graduate student in history at Harvard and was awarded the Ph.D. in 1981. He was a student of Franklin L. Ford, himself a former Dean of FAS; John King Fairbank, the founder of modern Chinese studies at Harvard; and Philip A. Kuhn, now Francis Lee Higginson Professor of History and of East Asian Languages and Civilizations.
From 1980 to 1991, Kirby was a member of the history faculty at Washington University in St. Louis, rising to become Professor of History. There he held several positions of academic leadership, including director of the International Affairs Program (1983-88), director of Asian Studies (1988-91), co-director of the JD-MA Program in Law and Asian Studies (1988-91), and dean of University College (1988-91), which serves part-time, evening, and summer-school students.
Kirby's scholarship and teaching have focused on 20th century China. His books and articles explore China's development in an international context, with work on such topics as Sino-European relations, the history of modern Chinese capitalism, the international socialist economy of the 1950s, and relations across the Taiwan Strait. The author of Germany and Republican China, he is currently completing A World Transformed: A Global History of the Twentieth Century, with Harvard colleague Charles S. Maier and Yvette Sheahan Kirby, and has just edited a volume of essays, Realms of Freedom in the Modern Chinese World. He is also co-editor of the recent, two-volume State and Economy in Republican China: A Handbook for Scholars, and is editor of the Modern China Series for Cambridge University Press.
A frequent traveler to China, trained in modern and classical Chinese, Kirby is an honorary visiting professor at both Beijing University and Nanjing University. He has also maintained a longstanding interest in Germany. In 1995-96 he was a visiting professor first in Heidelberg and then in Berlin, and he is completing a multi-year project on the internationalization of China in cooperation with colleagues in Berlin and in Beijing. His research has been supported by grants from the National Endowment for the Humanities, the American Council of Learned Societies, and the Chiang Ching-kuo Foundation.
Kirby has taught the Core courses on "Contemporary China: The People's Republic and Taiwan in the Modern World" and (with Peter K. Bol) "China: Traditions and Transformations," which interprets 3,000 years of Chinese history. A proponent of small-group instruction, he and colleagues developed faculty-led tutorials in history, which he has regularly taught. An alumnus of the Graduate School of Arts and Sciences, he is known also for his strong interest in graduate education. He has trained numerous doctoral students in modern Chinese history, and he has offered regular graduate seminars on the use of Chinese archives and the reading of documents of 20th century China. In addition, he has taught courses on China's foreign economic and cultural relations, Chinese business history, and the role of science and technology in China's relations with the West.
A native of Stamford, Conn., Kirby now lives in Lexington with his wife, Yvette, herself a Harvard Ph.D. in history (1980), and their two children.
Summers said that Kirby emerged from a search in which approximately 80 individuals were nominated for consideration. "I want to thank the many members of the community – faculty, students, staff, and alumni – who provided thoughtful advice to me during the course of the search," Summers said, "and who helped bring it to this excellent conclusion."