Harvard President Lawrence H. Summers visited the People's Republic of China from May 10 through May 14. Summers met Chinese President Jiang Zemin on Monday, May 13 ( see story below). On May 14, Summers delivered an address at Peking University. He previously announced a joint Harvard/Development Research Center/Tsinghua University mid-career program, visited with various government and education officials, and spoken with alumni who gathered from all across Asia.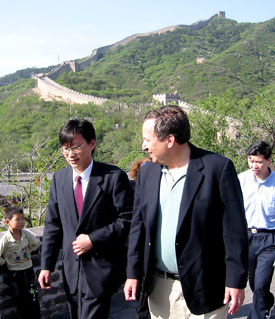 Summers was accompanied by 13 Harvard faculty members who met with many Chinese scholars, including those with ties to various Harvard-related programs currently under way in China. There were also a wide variety of private functions with alumni.
On Sunday, May 12, Summers spoke at Tsinghua University and formally announced a program established in Beijing and Cambridge to train Chinese civil servants at the John F. Kennedy School of Government. The new program will provide up to 60 of China's civil servants with an opportunity to develop additional functional expertise, strategic perspective and management tools needed to operate effectively in a changing public policy environment
Also on Sunday, May 12, Summers addressed a group of Harvard Club alumni from across Asia.
On Tuesday, May 14, Summers delivered a speech at Peking University, where he addressed students and also met with President Xu Zhihong and the university's senior leadership.
Tsinghua and Peking universities are regarded as China's top universities. Peking University, also known as Beida, celebrated its centennial in 1998. It has over 21,000 students representing 62 countries. Over 2,100 faculty teach within six colleges. Its 4.5 million volume library is the largest in Asia. Tsinghua University, also known as the "MIT of China," was established in 1911 and is one of the first universities to pioneer distance learning. It has 11 schools, 20,000 students, and 2,100 faculty.
Harvard University faculty who joined Summers on the trip were William P. Alford, Henry L. Stimson Professor of Law; Richard N. Cooper, Maurits C. Boas Professor of International Economics; Peter T. Ellison, Professor of Anthropology; William C. Hsiao, K.T. Li Professor of Economics in the Faculty of Public Health; William C. Kirby, Edith and Benjamin Geisinger Professor of History; Michael B. McElroy, Gilbert Butler Professor of Environmental Studies; Roderick MacFarquhar, Leroy B. Williams Professor of History and Political Science; Dwight H. Perkins, Harold Hitchings Burbank Professor of Political Economy; Anthony Saich, Daewoo Professor of International Affairs at John F. Kennedy School of Government; Wei-Ming Tu Harvard Yenching Professor of Chinese History and Philosophy and of Confucian Studies; Ezra Vogel, Henry Ford II Research Professor of the Social Sciences; Ning Wang, Associate Professor of Physiology and Cell Biology, Harvard School of Public Health; Shing-Tung Yau, William Casper Graustein Professor of Mathematics.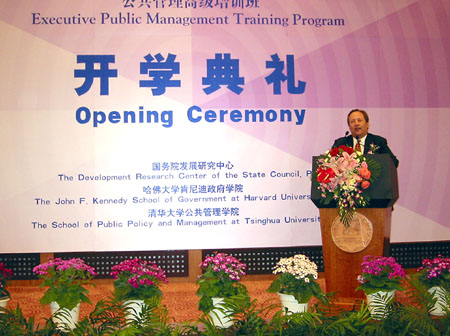 ---
Chinese President Meets Harvard President
BEIJING, May 13 (Xinhuanet) — Chinese President Jiang Zemin met here Monday evening with the president of Harvard University, Lawrence Summers, and his party.
After extending welcome to the U.S. guests, President Jiang spoke of his visit to Harvard University in 1997, and said he greatly valued Harvard's contribution to the increase in mutual understanding between the Chinese and American people.
Jiang also briefed Summers and other American guests on China's education reform, the latest achievements in education and challenges his country faces in the future.
He noted that educational exchanges between China and the United States have a great potential and might also help push forward the Sino-U.S. relations.
Summers said that Harvard and its Chinese counterparts have very good cooperation, which continues on.
Education, especially higher education, would help China with its still greater achievements in the future, he said, hoping that his university will continue to contribute in this regard.