When it comes to lengthy leaves and sponsored travel to exotic locales, University administrators usually get the short end of the stick. Faculty members and even enterprising students can avail themselves of research grants, travel fellowships, and sabbaticals, but the administrators who support their pursuit of knowledge must pay for their own trips from their own wallets using hard-earned vacation time.
Thanks to the generosity of an anonymous donor, however, four administrators in the Faculty of Arts and Sciences (FAS) will soon luxuriate in time and travel on someone else's dime. Nominated by their supervisors and peers, the administrators also enjoy recognition and admiration.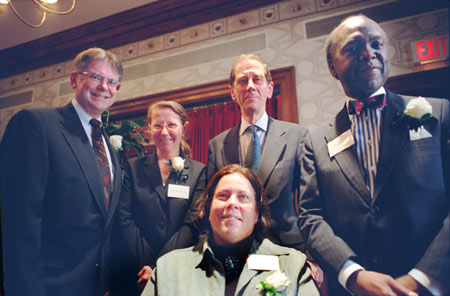 At a reception at the Faculty Club Friday (May 17), FAS Dean Jeremy R. Knowles presented checks and accolades to the four winners of the 2002 prize: David L. Evans, senior admissions officer for Harvard College; Louise Russell, director of the (FAS) student disability resource center; Rosemary Schulze, administrative officer of the Graduate School of Arts and Sciences (GSAS); and Jay Taft, director of administration of the Department of Organismic and Evolutionary Biology (OEB) and allied institutions.
The FAS Administrative/Professional Prize, given every two years, was founded in 1994 by an anonymous Harvard College alumnus and his wife to honor administrative and professional FAS staff members who have at least five years of University service. The prize, which grants winners $6,000 and one month of paid leave, "has to be used for travel and pleasure and delight," said Knowles. "You can't just fix the roof."
For the prize winners, such a luxury presents a challenge: where to go, what to do?
"It's such an extraordinary prize, and it really creates an opportunity for a once-in-a-lifetime experience," said Schulze, who has narrowed her focus to four continents: Australia, North America, South America, and Europe.
Reading from her nomination letter, Knowles said that Schulze was "the most powerful employee retention tool that GSAS has," joking that her methods might fend off "those predators from New Jersey." Schulze, who joined GSAS 16 years ago as a staff assistant, was also lauded for her unflappable manner and skillful communications.
In his 32 years in the Harvard College admissions office, Evans has brought "a monumental work ethic," his nomination letter claimed, and has made major contributions to the diversity of Harvard's student body. Named one of President George H. Bush's Daily Points of Light, Evans has been an adviser to the Harvard Foundation and initiated a placement assistance program for African Americans who were not admitted to Harvard.
"It's an acknowledgement that what you've done is worthwhile," said Evans, who admits that he doesn't travel much and isn't sure what he'll do with the prize. "I'll think of something," he reassured.
Russell, on the other hand, almost has her bags packed for an August trip to the Northwest, with stops in Vancouver, the Yukon, and Portland, Ore.
"I really love the outdoors and wilderness trails," she said, adding that a high-quality electric scooter replaces her wheelchair for greater access to the backcountry.
Knowles lauded Russell's efforts to make Harvard a welcoming place to students with disabilities, creating a program that has been copied at colleges and universities throughout the country.
Knowles likened Taft, who oversees administration of the department of Organismic and Evolutionary Biology as well as the Museum of Comparative Zoology, to a "permanent resident marriage counselor" for his ability to juggle the needs of "fish and snakes and bones and mollusks … as well as faculty and students."
"If any of you have an absolutely impossible problem, Jay's your man," Knowles added.
Taft's happiest problem right now is deciding where to travel. Florence, Italy, with its embarrassment of art riches, tops his current wish list.
Like the other prize winners, Taft expressed humility at being singled out among many talented, effective colleagues.
"It's been a privilege and a pleasure to spend as much time as I've spent in a department that works so well," he said.