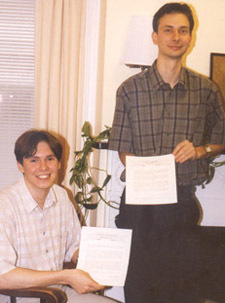 Two Harvard College seniors and one junior have been named recipients of the Joseph L. Barrett Award. Administered by the Bureau of Study Counsel (BSC), the award is named in memory of Joe Barrett '73, and is given to students who have enhanced the learning of others. This year's recipients — Bartlomiej Czech '02, Matej Sapak '03, and Elizabeth Tippett '02 — were honored at an awards ceremony on Monday (May 13).
Czech, a tutor with the Peer Tutor Program for two years, was recognized for his contributions to the group and his attentiveness to other members. According to a statement from the Bureau of Study Counsel, Czech "has exemplified the qualities we hope to see develop amongst this core group of tutors. He has shown a willingness to reflect on his work as a tutor and to engage the questions that the work inevitably raises."
Sapak has been a dedicated Reading Course assistant for the past two years. His knowledge of the course, coupled with his sensitivity to students, has made him an invaluable resource to those who have had the good fortune to teach the course with him as an assistant.
Tippett conceived, organized, and supervised a new peer mediation initiative that came to be known as the Conflict Resource Center. Under her leadership, the center has held training activities, set up a chat room for students to discuss issues of peer conflict, and raised the community's awareness about roommate conflicts. She has also contributed extensively to the redevelopment of the bureau's Web site, promoting accessible information and easier access.