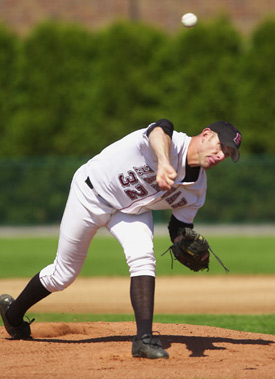 Up until the month of showers, success for the Harvard baseball team appeared to be postponed indefinitely. The Crimson notched just three victories in 14 outings during their opening month of play, dropping their first six games of the season. Yet ever since a doubleheader sweep over reigning Ivy champion Princeton in early April, Harvard has continued to pour it on, winning 12 out of their last 22 games, while improving to 15-21 overall (11-5 Ivy).
After splitting a brilliant, and batty, four-game series with Brown, a series that began Saturday (April 27) and ended Tuesday (April 30) due to two rain cancellations, Harvard earned a one-game lead on the Bears in the Red Rolfe Division. The Crimson can clinch the division title with a successful sweep of Dartmouth this weekend.
Sophomore Trey Hendricks hit a two-run homer in the first to open the series on Saturday. Hitting hard and early, senior Mark Mager delivered a solo home run later in the inning to give Harvard the 3-0 lead. Brown responded with a two-run fifth inning burst, but failed to close the gap as Harvard recorded the 4-2 win.
In game two, senior pitcher Ben Crockett became Harvard's new king of the mound, striking out 17 batters for a new school record, breaking the 1968 mark of 16 strikeouts. Spoiling the momentous occasion, the Bears managed a 6-5 win, erupting for three-runs in the sixth inning while limiting Harvard's bottom of the eighth rally to two runs.
The Crimson fell again in the third game of the Brown series on Monday, 3-2, but not before Mager evened the score 2-2 with a fourth-inning RBI single to bring in Chaney Sheffield '02 and Javy Lopez '02. Later in the sixth, with bases loaded, Brown pitcher Dan Spring struck out Bryan Hale '04 to kill the Harvard threat. A Bear homer in the seventh sealed the Brown victory. The final game, canceled due to weather, was played out on Tuesday.
Saving their best for last, the Crimson overcame a 9-2 deficit at O'Donnell Field this Tuesday with a dramatic 13-12 win. Josh San Salvador '02, in his second outing since tearing his ACL several weeks ago, hit a game-winning homer in the bottom of the ninth to close out the series at two games apiece.
Harvard plays host to Dartmouth on Saturday (May 4) for a doubleheader before heading to Hanover for a pair of games on Sunday (May 5).