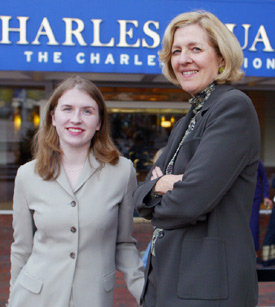 Harvard College has selected Laura E. Clancy '02-'03 as the winner of the 2002 Harvard College Women's Leadership Award for her exceptional leadership skills.
Journalist and Boston Globe columnist Ellen Goodman has been named the recipient of this year's Harvard College Women's Professional Achievement Award.
Also, honorable mentions for the Women's Leadership Award have been bestowed upon Dorothy A. Fortenberry '02 and Lavanya Kondapalli '02, in recognition of their many noteworthy achievements.
Clancy, a concentrator in English and American languages and literature, is president of the Phillips Brooks House Association (PBHA) and has overseen many programs focusing on public service, philanthropy, and community relations.
In her letter of recommendation, PBHA deputy director Maria Jose Dominguez wrote, "Laura is a deeply visionary and intelligent woman who balances a high standard of excellence with a very timely sense of humor." Ayirini Fonseca-Sabune '04, who nominated Clancy, wrote, "I've discovered that Laura's commitment to public service is rooted in her deep Quaker faith and the tradition of the pursuit of social justice among Quaker women."
Ellen Goodman was selected because of her exemplary leadership at both the local and national levels, as a distinguished writer. "Her work is outstanding and she is a strong role model for our students," said Karen E. Avery '87, assistant dean of Harvard College and director of the Ann Radcliffe Trust in Harvard College.
This is the fifth year for the Harvard College Women's Leadership Awards. The two awards are funded through an endowment established by a gift from Terrie Fried Bloom '75. The Harvard College Women's Leadership Awards are part of the Ann Radcliffe Trust in Harvard College, a unique resource for women undergraduates, which seeks to raise the awareness of women and women's issues at Harvard and beyond.
The student prize goes to a junior or senior who has demonstrated exceptional leadership while attending Harvard; contributed toward the advancement of women; achieved meaningful impact on fellow students; and exhibited a potential for leadership in future endeavors.
"We had a record number of 82 nominations for the student award this year, and we are very excited by the support the award continues to receive from the Harvard community," said Avery. "The selection committee faced its most difficult challenge yet in choosing one award recipient from such an incredibly strong and deserving pool of outstanding candidates."
The selection committee included Avery; Judith Palfrey, T Berry Brazelton Professor of Pediatrics; Susan Vacca '76, associate director and librarian in the Office of Career Services; Corinne Funk '97, emerita member of the executive board of the Women's Leadership Project; and Amy Zegart '89, a member of the Women's Leadership Project Advisory Board.
The award recipients were honored at a dinner and ceremony on April 18 at the Charles Hotel in Cambridge.