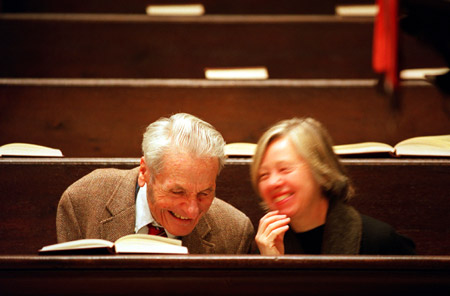 Elliot Forbes has been attending Morning Service in Appleton Chapel since 1958, the year he became a Harvard professor. It was an older colleague, Mason Hammond, who persuaded Forbes to join the group of celebrants who gather every morning from 8:45 to 9 for prayer, music, and a short talk by a volunteer speaker.
"Mason was the one who drew me in and got me interested. He was very faithful," said Forbes, the Fanny Peabody Professor of Music Emeritus.
Hammond, the Pope Professor of the Latin Language and Literature Emeritus, began attending the service in 1921, when he was a Harvard freshman, and continued for more than 70 years. Now 99 and no longer able to make the trip from his Brattle Street home, Hammond is present in spirit, lending his name to the row of pews in which Forbes still sits.
The two men used to occupy one of the back rows, but growing hearing loss caused Forbes to become dissatisfied with that location.
"One day I said to Mason, 'I'm having trouble hearing. Let's move to the front row.' I was the one who called it the Hammond row in his honor."
Hammond's faithful attendance over eight decades is still only a brief episode in the history of Morning Service, which goes back to the founding of the College in the 1630s. During that time the service has remained substantially the same. The only change was that during the 1880s, the time was changed from 7:45 to 8:45.
"It was also no longer compulsory, at which the students rejoiced," said Forbes.
Even though it is no longer required, many students still take part, as do staff, faculty, and members of the community. What unites this diverse group is a desire to start the day with an experience that is contemplative and spiritually uplifting.
"There's a whole contingent of people of various ages and backgrounds who come to Appleton Chapel. It's a sacred place and a sacred time," said Carol Bankerd, a Cambridge resident who commutes to State University of New York, Purchase, three days a week to teach graphic design.
Bankerd used to sit in another pew, but then one morning Forbes beckoned her over to the Hammond row.
"It's something he does," Bankerd said. "There are other people he's gotten to join us. Elliot's a magnetic fellow."
We serve the public interest! Interesting people, interesting jobs, interesting hobbies – we want them in the Big Picture. If you have an idea for the Big Picture, give us a buzz at big_picture@harvard.edu