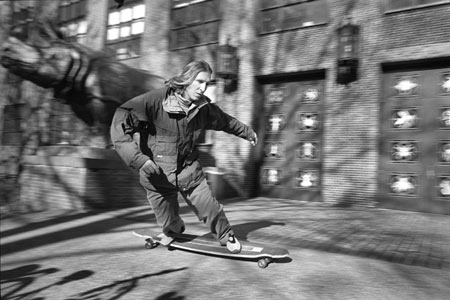 Lance Schumacher is a man in motion.
Riding one of his 10 bikes or his 5-foot skateboard, Lance is a wind-in-my-hair escapee from the tyranny of the tin metal boxes dominating Cambridge roads during the morning and evening commutes.
And that's the way he's always wanted it to be.
"I always wanted a job I could ride my bike to," Lance said. "Two weeks before I got this job I sold my car. It's more fun and I get stressed out in traffic."
"This job" is a position in Harvard's Environmental Health and Safety Office as an Environmental Health and Safety Technician. Lance has been on the job for five years and says he has gotten here under his own power for all but a handful of days.
"I've ridden my bike or skated every day except 10 in five years," Lance said.
Lance supervises hazardous waste contractors on campus, accompanying them to different sites to pick up everything from paint cans to drums of chemicals. Though he takes his work seriously, Lance enjoys getting from place to place his way: on his long board.
Lance rides the 5-foot board because he says it handles long cruises across campus better than shorter skateboards. Its wheels are a bit softer, he said, and it handles sharp corners more easily.
Lance doesn't just ride on asphalt. In fact, he jokes that he skateboards around campus because he can't snowboard in winter. Lance got hooked on snowboarding as a way to get through the New England winters after moving to the area. That led him to try skateboarding in the summer.
Lance comes to Harvard via the U.S. Coast Guard. He spent seven years in the Coast Guard as a marine service technician, working on oil spill response in Maryland for several years before moving to the district office in Boston in 1994, where he did oil spill response planning.
One of his first assignments with the Coast Guard was his best, however. From 1989 to 1991, he worked on the Coast Guard's tall ship Eagle, which sails around the world training cadets in seamanship. Lance said his stint there as a seaman was a great experience and gave him the chance to visit countries around the world, including France and Russia.
Today, Lance lives two miles from campus in Somerville, close enough for him to make his commute an enjoyable part of the day. That's in contrast to the experience of most of the people on the road. Though he mostly commutes on a bicycle, he does occasionally skateboard in to work during the summer. On those days, though, he keeps a sharp eye out for cranky commuters.
"You get even less respect on a skateboard than on a bike," Lance said.
We serve the public interest! Interesting people, interesting jobs, interesting hobbies – we want them in the Big Picture. If you have an idea for the Big Picture, give us a buzz at big_picture@harvard.edu