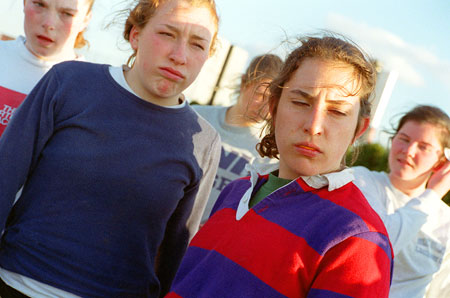 Staff photos by Justin Ide
In the wide world of Harvard club sports, the Radcliffe Rugby Football Club is a rebel state. Established in 1982 for and by women, — eons before the "extreme" in sports (or girl power, for that matter) — the club has tapped the imagination of more than a few young women. Led by an all-female coaching staff since day one, this year's squad boasts a roster 38 deep.
And unlike badminton, in-line skating, or a host of other clubs sports, rugby is a mixture of pure aggression and force. Add a certain fearlessness usually reserved for the Running of the Bulls — and we're not exactly talking about the most 'feminine' of qualities here. Yet for the past 20 years, "Radrugby" has attracted a dedicated set of student-athletes longing to mix it up.
With a combined record of 10-5 from the team's fall and spring seasons, the club hosts the University of Massachusetts, Amherst, at the home pitch (behind the indoor track and tennis facility of the Soldiers Field Athletic Complex) on Saturday, April 13, at 11 a.m. The club holds open practices ("No experience expected," according to the club's Web site) every Monday and Thursday from 4:30 to 6:30 p.m., and Wednesdays from 7 to 9 a.m. Future flyhalfs and props can e-mail team co-captain Sarah Tavel at tavel@fas.harvard.edu, for more information.