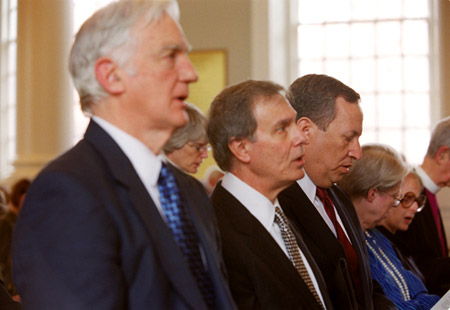 The vaulted ceiling of Harvard's Memorial Church echoed with praises of former Harvard President Nathan Marsh Pusey on Friday (April 12), as President Lawrence H. Summers and former presidents Derek Bok and Neil L. Rudenstine joined the Rev. Professor Peter J. Gomes and former Divinity School Dean Krister Stendahl in describing a man of uncommon vision and courage.
"He stood for academic freedom and defended the values of the academy against external assault," Summers said. "We continue to harvest the fruits of his endeavors on Harvard's behalf. He has guided us, he has taught us, and he has inspired us. And he will always be remembered for his leadership, his devotion, and his ideals."
The memorial service, which drew several hundred to the church Friday afternoon, was held in honor of Harvard's 24th president, who died Nov. 14, 2001, at the age of 94.
Pusey, who served as Harvard president from 1953 to 1971, led the University during a period of change and turmoil that began at the end of the Korean War and included the Vietnam War and the turmoil of the 1960s.
His tenure featured an unprecedented spurt of construction that saw the addition to campus of the Carpenter Center for the Visual Arts, the Countway Library of Medicine, Gund Hall, Gutman Library, Hilles Library, Holyoke Center, Loeb Drama Center, and the Science Center.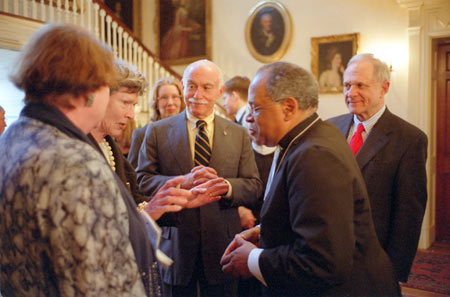 "He laid the foundations of today's modern Harvard," Rudenstine said. "We owe him many, many thanks indeed."
He was hailed as the defender of academic freedom during the anti-communist hearings of Sen. Joseph McCarthy and as someone who was unafraid of taking unpopular actions. Bok said Pusey loved Harvard and strove to make the Harvard ideal of freedom of thought and access for everyone, rich or poor, a reality.
Gomes, the Plummer Professor of Christian Morals and Pusey Minister in the Memorial Church, said the Memorial Church itself owes Pusey a great deal. He said Pusey had a great impact on the church, influencing everything from the choir and hymnal to Gomes' own title as Pusey Minister.
"It is the duty of the living to remember the dead. That duty today is also an honor and a privilege," Gomes said.
– Alvin Powell