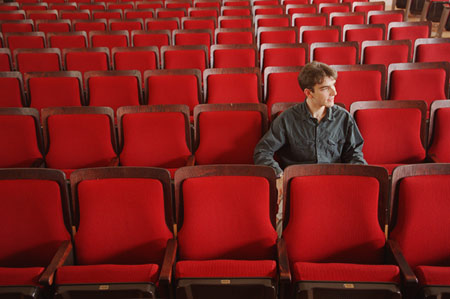 For Alexander Ness, composing is its own reward.
"Just the experience of composing music and working with sound is a great joy," said the sophomore music concentrator.
But Ness' musical talent has gained him an additional benefit beyond the sheer joy of creative endeavor. His four-minute piece for string quartet has won this year's Blodgett Competition — only the second composition by an undergraduate to win the prize since the competition was inaugurated in 1992.
Ness' piece will be performed next during the fall 2002 term by the Ying String Quartet, as part of the Blodgett Chamber Music Series. The Yings, current holders of the Blodgett Residency, are three brothers and a sister from the small rural town of Jessup, Iowa, who have performed all over the world and are winners of the Naumburg Chamber Music Award.
Ness, who has been composing seriously since he was a high school student, said he was surprised to win the competition, not only because the winner has been most often a graduate student, but because he was afraid his piece was too short to impress the judges.
"Usually they seem to be looking for something more massive," he said.
But according to Bernard Rands, the Walter Bigelow Rosen Professor of Music and a member of the prize committee, it was the condensed quality of Ness' writing that caught the judges' ears.
"The conciseness of the piece was one of its attractions," said Rands. "It's not a rambling, sprawling piece. It's very concise and extremely musical."
Despite its brief duration — not much longer than the average pop tune — the piece took a considerable amount of labor. Ness began the composition during the summer while he was at the Aspen Music Festival and completed it over winter break.
"So all together, I worked on it for about a month and a half, and that's working for a solid six hours a day. I learned a lot, though."
What does Ness' piece sound like? He described it as loosely based on the classical sonata form employed by composers like Mozart and Beethoven.
"But saying that is like trying to describe a wine by describing the bottle it's in," he said.
Members of the Music Department who have seen the piece, on the other hand, have noted the heavy influence of the modernist composer Arnold Schoenberg. But Ness says that the harmonic and rhythmic language of his piece are very different from Schoenberg's compositions.
The difficulty of describing Ness' piece may stem in part from the composer's intuitive approach and the variety of his musical influences.
"My main philosophy is that if it sounds good, do it. I don't think any formal justification is necessary. It's like eating a meal — there shouldn't be any ideology attached to it."
Ness' eclectic approach applies to listening as well as composing. In addition to the standard Western classical repertoire, he regularly listens to a diverse mix of music, including Indian classical music, Pearl Jam, Red Hot Chili Peppers, and George Clinton and his P-Funk All-Stars.
Ness is an accomplished pianist as well as a composer. This Sunday, April 14, at 3 p.m., he will give a free piano recital in the Eliot House library. The program includes pieces by Brahms, J.S. Bach, Debussy, and Beethoven.
Rands, who has mentored Ness as a composer, praises his student's pianistic abilities and notes that in performing his own compositions, he is never stymied by the complex rhythms he often employs. But it is as a composer that Rands expects him to make his mark.
"I believe he has a vocation in this area of music," Rands said. "He's very dedicated and devoted to it. I expect him to produce significant work in future years."