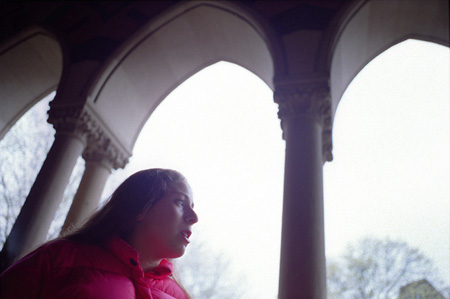 I contemplated taking too many pills less than a week after I arrived at Harvard. Depression was tightening its grip on my mind, and I was certain that I was powerless to stop it. In the world according to depression, you did not earn any of the positive things that happen in your life, and the negative events were your fault even before they happened.
– Dave '03
While it might be easy to breeze past a roommate, a classmate, a co-worker without noticing his or her depression, Dave's words, displayed on a 3-by-4-foot poster board in the Science Center last week, were hard to ignore.
That was exactly the point of the first-ever Mental Health Awareness and Advocacy Week, April 15 – 19, of which several large-as-life testimonials like Dave's were a key component.
"Even if you couldn't find time to come to any of the activities, you could still stop and take five minutes and learn why we think this is so important," said Sarah Ramer '03, co-chair of the Mental Health Awareness and Advocacy Group, which sponsored the week.
Other activities included a talk on "Stigma" by Provost Steven Hyman, former director of the National Institutes of Mental Health; a panel on medication; a discussion of careers in mental health; daily informal discussions in dining halls; and a screening of the Academy Award-winning film "Ordinary People."
While the activities were lively and well-attended, Ramer calls the poster testimonials by students the most successful element of the week. "We wanted people to say, 'Wow, I didn't know that happened around here,' or 'Wow, that sounds like me,'" she said.
Those reactions summarize the week's goals: to increase awareness of mental health issues on campus and to reach out to those who may be dealing with their own mental illness alone.
"We're trying to increase acceptance on campus, understanding on campus, destigmatization is really important," said Ramer. "We're trying to make a climate where people feel more comfortable seeking help. … A climate where nobody has to suffer alone."
Despite her activism and advocacy, Ramer herself was surprised at the figures provided by Richard Kadison, chief of the mental health services for University Health Services, and Charles P. Ducey, director of the Bureau of Study Counsel. At the panel on medication, Kadison said that 1,000 of Harvard's 17,000 students take one of the top three antidepressant medications.
While Harvard's high-pressure, high-achievement environment might make it easy to deny the existence of mental health issues, it can also breed them.
"I don't necessarily think that coming to Harvard can make you mentally ill, but … if you were headed for mental illness at some point in your life, this might be the point where it comes out," said Ramer.
The week's events were an ambitious undertaking for the Mental Health Awareness and Advocacy Group, which re-formed in fall 2001 after several semesters of inaction. The group's eight members brainstormed and divided tasks, bolstered by what Ramer calls significant support by the provost's office.
"I was definitely the one who bothered everyone the most with e-mails, but a lot of people helped," said Ramer. Chia-Jung Tsay '04 co-chaired the week with Ramer, and Caitlin Stork '04 designed the testimonial posters.
So new that they didn't yet have a bank account in which to deposit checks from the Undergraduate Council, the group's members put up their own cash to mount the week of events.
Looking back, Ramer calls the week a success, particularly in fostering discussion and compassion among students. "Students [recognize] that their classmates, the person sitting next to them in a lecture, the person they're eating with in the dining hall – really anybody you see – could be that person who wrote the board," she said of the poster testimonials. "We really believe in the effectiveness of one person's story."