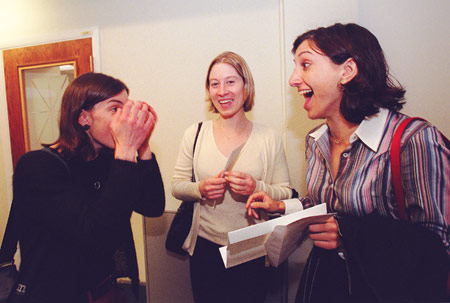 In a matter of minutes, a line of tense Harvard Medical School (HMS) seniors turned into a talkative mob outside the Medical School Registrar's Office Thursday (March 21) as Match Day's anxiety turned to relief with the opening of a little white envelope.
HMS seniors joined their peers across the country in sharing the anxiety, relief, and, sometimes, disappointment when they learned which hospital they'll work in for the next four years to complete their medical residency training.
"They don't even know what part of the country they're going to," Associate Dean for Student Affairs Nancy Oriol said before the Registrar's Office opened promptly at noon to dispense the letters. Oriol said the day ranks right among the most stressful of a student's academic career. A doctor herself, Oriol said she still remembers her Match Day, "It's up there," she said. "I remember it well."
Match Day is a nationwide rite of passage involving more than 14,336 medical school seniors. To find a place to do their residency, students interview at different hospitals. They then rank the hospitals in order of their preference. The hospitals in turn rank the students they've interviewed in terms of preference.
The matchings are done by the National Resident Matching Program, which feeds the priority lists into a computer that then comes up with pairings, pairings that, hopefully, leave both the students and hospitals happy.
"This was my first choice, so I'm really happy about that," said Henry Tsai, who is heading to Lennox Hill Hospital in New York for his first year and than coming back to Massachusetts General to work in radiology. "It's sort of the last obstacle before you graduate."
As the envelopes were handed out, medical students milled outside the registrar's second-floor Gordon Hall office, sharing their news and checking with friends to see how they fared. Some students stood on the nearby stairs, talking on cell phones.
"So, it's me, you, and Pat for three more years," one happy student said to another, amidst the hugs and smiles in the crowd.
"There's some climax and some anticlimax elements to it. You're still in school, so you're still focusing on being a medical student," said Stephen Martin, who matched with Boston Medical Center, where he'll be training in family practice medicine. "I think we all have a little trepidation on how we're going to do."
Martin left Match Day happy. He had hoped to be placed in a residency program in Boston, so he wouldn't have to move his young family.
"I look forward to staying here in town and preserving my son's [Boston] accent," Martin said.
Martin's run through Harvard Medical School was marked by personal as well as academic milestones. His son, Ben, was born four-and-a-half years ago, two days before he started classes. His daughter, Ella, was born on March 8, just 12 days before Match Day.
The nearly five years in between were marked by challenge and sacrifice. Martin's wife, Ruth Potee, is also a doctor, so their lives have been a daily struggle to find child care, to find time to study, to find quality time to spend with each other and Ben.
"It was an extraordinary experience," Martin said. "My top nine things I worried about in the first year was who's going to take care of Ben. The 10th thing was being in medical school."
Martin said his experience will help him relate to patients who are often juggling similar demands on top of having to seek medical care.
"It's part of the real world. We're still on the waiting list for child care here in the medical area," Martin said.
Martin made it through by taking five years to lessen the pressure a bit, by working hard and by giving up a lot of sleep. He said he spent the first two years in school going to bed at 2 or 3 in the morning and rising at 6:30 a.m. to get to class.
"You lose a lot of sleep, which is OK," Martin said. "There's been no regrets."