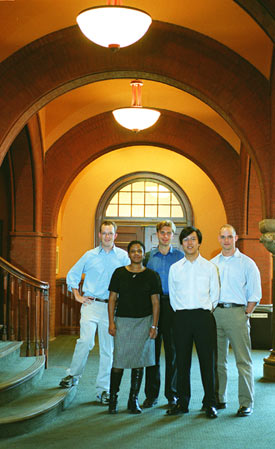 March Madness came to Harvard Law School (HLS) this year, even though the only court students set foot on was a court of law.
In two of the field's most prestigious competitions – the Phillip C. Jessup International Law Moot Court Competition (March 10-16) and the Association of Trial Lawyers of America Student Trial Advocacy Competition (March 21-25) – HLS teams progressed through the brackets to claim the U.S. championships. And while the Jessup's top honor eluded them, the Harvard team collected handsome awards along the way, including the top ranking for the best-written brief.
"You reach a level of understanding of the subject that I just don't think you can get anywhere else," said Jessup competitor Natalie Reid 2L.
Internet across borders
In the Jessup competition, that subject is a timely issue of international law that students from more than 300 law schools worldwide argue as if before the International Court of Justice in The Hague, the Netherlands. This year's competition was based on a dispute between two fictional countries regarding Internet regulation, spinning off discussions of free speech, hacking, cyber-terrorism, and cross-border abduction.
Reid and teammates David Mascari 3L, William Burke-White 3L, Jin Long Pao LLM, and research associate Benjamin Wilkinson 1L, assembled in September, when the competition administrators sent out the question, and hit the books in October.
At the regional competition in Springfield and the international rounds in Washington, D.C., Reid and Burke-White argued for the applicant, the fictional country of Turingia, and Mascari and Pao presented the case of the respondent, the Republic of Babbage. Each side squared off against an opponent from another U.S. law school or, in the international rounds, students representing other nations. The Harvard team was defeated in the international semifinals by South Africa, which went on to win the Jessup.
While the prestige of the Jessup, which HLS Professor Anne-Marie Slaughter calls "the training ground for many of the world's international lawyers," prompts many schools to offer course credit and faculty coaches for their competitors, Harvard's team was entirely self-coached and extracurricular.
Still, said Slaughter, "they were absolutely superb. I saw them argue and was just dumbfounded." Slaughter, who recently became president of the American Society of International Law, cited the students' technical knowledge of the law as well as their beautiful writing and oration as distinguishing them from their competitors and from other HLS teams that she's seen.
The Jessup recognized the team's oration skills, too, judging Mascari fifth and Pao eighth overall in oration. Mascari, who admits that he was "awful" on his first day of practice, drew on the only public speaking experience he had: doing improvisational comedy. "I got a lot more comfortable with kind of going off the cuff," he said. "I went from being awful to I think being pretty OK."
Beating the odds
The Harvard Law School Mock Trial Team – Matthew Whitley 3L, Cecilia Dickson 3L, Rick Su 1L, and Rex Lee 1L – also overcame their inexperience to take top prize in the Association of Trial Lawyers of America's national trial advocacy tournament held in Chicago, beating 225 teams from nearly 140 law schools.
"Aside from me, it was a completely new team, with no experience in this particular competition," said team captain Whitley, who was competing in the ATLA event for the third time. "But as the year went on, my expectations rose dramatically," he admitted.
The mock trial contest has students participating in a courtroom-style trial, serving as attorneys and witnesses in front of a "judge" and "jury" of real-life judges or attorneys. All teams receive the same case, which this year was a wrongful-death suit involving an inexperienced rock climber whose fall precipitated – or didn't – the death of one of his rescuers.
Unlike a true trial, however, teams are judged on their trial advocacy skills rather than who would have won on the merits of the case. Whitley noted that the plaintiff in this fictional case, the widow of the rescuer, would have had a hard time winning in a real court of law.
Like the Jessup team, HLS's mock trial team was among the few teams with relatively little faculty involvement, although Whitley acknowledged the support of Edward R. Johnston Lecturer on Law Peter L. Murray and Lawrence Friedman, Climenko/Thayer Lecturer on Law, as well as the School itself, which defrayed travel expenses. The majority of their competitors in Chicago had "an armada of coaches," said Whitley, as well as entourages of onlookers, including first-year law students who carried luggage.
The HLS team, on the other hand, tapped Whitley's wife as its official "sponsor," mandated by the competition to help tally scores. She did not, Whitley stressed, carry any luggage other than her own.
Secret to success: Fun
For both teams, the winning formula was a mix of hard work – up to 30 hours per week as the competitions approached – and teamwork. And, remarkably and unanimously, fun.
"The best part of it, from our perspective, is that we had a lot of fun," said Whitley. "Frequently, before rounds, my team would be sitting around cutting up and telling jokes." That relaxed camaraderie fueled their success, he believes.
For both teams, the real-world perspective of the competitions brought a motivating excitement. "We're the kind of people who like this stuff," said Reid. "We get kind of turned on by the intellectual discussion of these sometimes relatively arcane points of international law."
Plus, she added, "it's an incredible rush to get up there and know you have an argument to make and to actually persuade a judge – even a fake judge – that you know the facts, you know the law, and you can tell a good story."
Whitley echoed Reid's enthusiasm for the high-stakes thrill of competition. "Being in a courtroom is fun for me. It's what I love most about the law," he said. "It's why I came to law school."