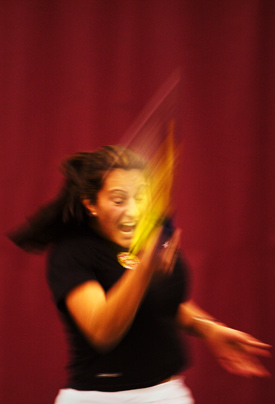 After a rough road trip that saw the Harvard women's tennis team (6-7, 2-0 Ivy) drop five of six matches to schools in Florida, South Carolina, and California, the Crimson returned to the Murr Center Courts this past Friday and Saturday (April 5-6) for a two match home sweep. Harvard served up a pair of 5-2 wins against both Cornell and Columbia to open its Ivy League season in style.
The Crimson took a quick lead against Cornell on April 5 with wins in the first and third doubles competitions. Sanja Bajin '03, back in action since being sidelined in early March, and rookie Alexis Martire defeated Cornell's duo 9-7, while senior co-captain Fleur Broughton and Sarah McGinty '02 beat out the Big Red's Nicole Chiu and Erika Takeuchi 8-3. In singles action, Lara Naqushbandi '02 sealed the Crimson victory with a 6-2, 6-3 triumph over Cornell's Daniela DelPrete.
A day later, the Crimson stayed perfect in Ivy play, troubling the Columbia Lions 5-2. Commanding both the first and second doubles play, Martire and Bajin won 8-2 over Joyce Chang and Miriam Rahali, while partners Broughton and McGinty took an 8-4 decision.
Harvard exploded for three consecutive wins in singles action to secure the match win. Broughton, Naqushbandi, and McGinty captured the third, fourth, and fifth spot, respectively.
Harvard is on the road again this weekend for league matches against Pennsylvania on Friday, April 12, and Princeton on Saturday, April 13.