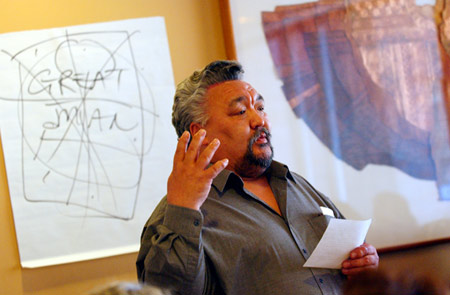 Sheila Watt-Cloutier traveled by dog sled when she was a girl in Canada's frozen north. Today, 40 years later, the snowmobile has replaced the dog as the main mode of travel for Canada's Inuit.
This fact is just one illustration of the rapid transition affecting the Inuit people, who are struggling to hold onto their culture and traditions after decades of change.
"For the first 10 years of my life I traveled only by dog team, and I'm not yet 50," Watt-Cloutier said recently. "This has been a time of rapid cultural change [for the Inuit]."
Watt-Cloutier, president of the Inuit Circumpolar Conference, was among about two dozen Inuit leaders from Northern Canada who spent two days at the Kennedy School of Government last week seeking to understand the best course for the Canadian Inuit's next step.
The last step was the settlement of a series of land claims with the capstone being the creation of a new Canadian territory of Nunavut in 1999 as a homeland for Inuit people. Land claims in Labrador, currently under negotiation, are still to be settled.
Participants at the first Canadian Inuit Executive Leadership Program, sponsored by the Harvard Project on American Indian Economic Development and the Harvard University Native American Program, highlighted several deep problems facing their society, including alcoholism, high suicide rates, and high unemployment. Others talked about problems being imposed from outside, such as toxic chemicals in the food chain and global warming-induced climate change.
While the problems may seem plain, their causes and solutions are complex. The rapid loss of culture, illustrated by Watt-Cloutier's switch from dog sled to snowmobile, has deep ramifications. Some at the session said that strengthening their culture and language would be a good first step toward addressing the society's ills.
"People really feel they're losing their social and cultural identity," said Jose Kusugak, president of the Inuit Tapiriiksat Kanatami, an umbrella organization of regional Inuit groups created to coordinate different land claims.
Kusugak said the two-day program was a useful way of getting the Inuit leaders out of their normal element to take a fresh look at their situation from outside. He also hopes it helps the individuals who represent different Inuit groups to present a united front to the Canadian government and to other interests, such as multinational corporations interested in mining or other development plans.
"It is good to get us out of our element once and a while to be able to look at the situation in Canada from outside," Kusugak said. "This is a great opportunity for us to look at the Inuit Tapiriit, the united Inuit in Canada, to work together on step two from the land claims base."
Ken Pepion, executive director of the Harvard University Native American Program, one of 11 interfaculty initiatives at the University, introduced the two-day program. He told participants that Harvard's function is not to tell them what to do, but rather to present a forum where they could learn from Harvard and each other and where Harvard could learn from them.
"We have as much to learn from you as you do from us. We're excited to learn from you," Pepion said.
Sessions during the busy two-day program addressed issues such as nation-building, economic policy, leadership, and conflict management. Joseph Kalt, Ford Foundation Professor of International Political Economy and academic dean at the Kennedy School, said during an early session that the program isn't designed to provide technical solutions to specific problems, but rather to help Inuit leaders find ways to solve the problems themselves.
The overarching problem is to find ways to spur development and create jobs in a way that embraces and honors Inuit culture in the 21st century.
The answer to that problem is different for each Native American community, said Kalt, who has worked extensively with Native Americans across the United States. The task before Inuit leaders is to find the Inuit road to that solution.
Kalt talked about the transformation of a Choctaw reservation that opened a plastics factory, now so successful that 6,000 workers from the surrounding communities commute to the reservation each day. The operation is so successful that the tribe had to open two factories in Mexico because they couldn't find workers locally.
Kalt said that on this reservation, suicide is down dramatically, unemployment is near zero, life expectancy has risen 15 years in just the last 12 years, and interest in learning the native language is also up.
"They now had the resources to take over their own schools and to teach their native language. People were proud again," Kalt said.
When the program ended, Kusugak said he'd like to see it repeated. He said he felt challenged over the two days, and not talked down to as sometimes happens with government officials.
"I think there was a three-year course rammed into two days," Kusugak said. "The presenters challenged you, they didn't suck up to you. That's what we need, we don't need the low expectations of Inuits, we need the high expectations of Inuits, because we're up to it."
Pita Aatami of Makivik Corp. in northern Quebec, said he learned a lot about leadership from Dean Williams, lecturer in public policy, and, as an Inuit leader, those lessons can only help his people.
"I always thought that leadership was authority," Aatami said. "I thought I knew a lot and I found out I have a lot to learn in just one afternoon from him."
Watt-Cloutier said it was encouraging that a prominent institution so far from the Inuit's problems understood their challenges. She said the two days helped participants uncover traditional Inuit wisdom and gave them tools for the challenges ahead.
"There has to be the foundation of our language and culture," Watt-Cloutier said. "Everything else is built on that."