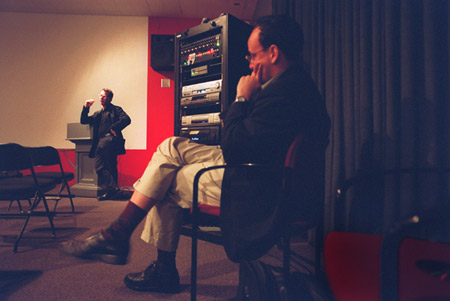 Not long ago at the Harvard Film Archive (HFA) more than 20 Harvard community movie hounds showed up for the inaugural meeting of Cinephiles Unite, a new special interest group started by Harvard Neighbors (HN) that connects film lovers from across the University with screenings and movie chat. The featured film on this occasion was an updated adaptation of "Hamlet," starring Ethan Hawke, Bill Murray, and Julia Stiles. Although shown in the smaller room B-04, rather than the Carpenter Center's main theater, "Hamlet" was projected onto a wide screen with state-of-the-art digital video and audio, allowing the audience to appreciate the film's frequent use of ambient sound and striking visuals.
The crowd also got an extra treat: a question-and-answer session with the film's producer, Andrew Fierberg.
Fierberg, who is co-founder of the award-winning production company AA Films, shuttles between Cambridge and New York City with his wife, Giuliana Bruno, a professor in the Department of Visual and Environmental Studies. Fierberg offered a few words before the film, and then deftly fielded questions from eager cinephiles. He revealed that the play's signature "To be or not to be" soliloquy was shot at a Blockbuster Video at 3:30 in the morning; that playwright, director, and actor Sam Shepard was one of the film's earliest supporters; and that the project almost fell apart over the casting of Julia Stiles. (Fierberg wanted Stiles. Miramax, the film's distributor, wanted "A Beautiful Mind"'s Jennifer Connolly.)
Cinephiles Unite is the brainchild of Roger Fussa, the Business School's Liaison for Alumni Clubs and Associations. Fussa first got the idea for Cinephiles Unite shortly after coming to Cambridge last year through the University's Administrative Fellows Program. In an attempt to make new friends, Fussa joined Harvard Neighbors, a University-based organization that works to create a sense of community among faculty and staff. He attended a couple of social events, which he enjoyed, but Fussa says that he didn't really start to relax and feel at home until he made a trip to the Brattle Theatre last winter. He enjoyed the experience so much that he thought that a cinema group might be the way for him to make social connections at Harvard.
"I went to see 'Casablanca,'" he says, smiling. "I knew I'd gotten over the hump when I had the time to go see a movie. I thought, 'I love film. [A group] could be fun.' It's a great opportunity to meet people from across the river."
At the time, Harvard Neighbors was soliciting proposals for new special interest groups. He e-mailed the organization's coordinator, Jacoba Von Gimborn, and told her of his idea for a cinema group. She was immediately enthusiastic.
"I am thrilled that Roger came forward with this idea," says Von Gimborn. "That's what HN is all about … Harvard people sharing interests across campus, using Harvard's terrific resources and getting to know their fellow Harvardians!"
When his workload became a little more manageable, Fussa submitted a formal proposal. In thinking about how the group would help create a sense of community (a prerequisite for a Harvard Neighbors "interest group"), Fussa was inspired by the role that theater played in Elizabethan England.
"If you were a serious artist in Elizabethan England, you didn't make your reputation in the theater. It wasn't for high artists. Gentlemen weren't supposed to go. But it was a rowdy, rambunctious place, and there was a real community. Now theater is thought of as higher art than movies. But a great movie is not only great art; it's also terrific entertainment. Film (like theater in Shakespeare's time) is a way to build community. Which is paradoxical, because you're turning down the lights and sitting in the dark."
Fussa also looked to Shakespeare for the group's first film. As for a venue, he ambitiously suggested the HFA's main theater. Curator Bruce Jenkins was initially lukewarm to the idea of having another group in the already heavily used Archive, but warmed when Fussa mentioned the film he wanted to show.
"[From the first] Bruce was supportive," says Fussa. "But he said 'No promises.' [Then] I told him that I was thinking of 'Hamlet' for our first movie. Bruce indicated that it might be possible for [producer Andrew Fierberg] to speak to our group." The screening was set up and Fussa began publicizing the event.
Fussa says that he hopes to have one more Cinephiles event this semester, and then he aims for a movie a month in the fall. He'd also like the group to venture off of the Harvard campus and frequent the area's art houses.
"I'd like to see movies at other places: the Brattle, the Museum of Fine Arts, the Somerville Theater at Davis Square. That way, we can piggyback on programming that's of interest to the group."