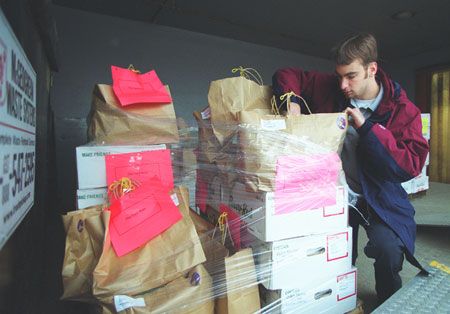 Yellow and green are considered colors of healing in a number of ancient traditions. This past March in dazzling arrays of golden daffodils these colors filled the modern offices throughout the University. And these bright visitors were intimately connected with healing. Daffodil Days at Harvard is a yearly fund drive that raises money for the American Cancer Foundation.
This year, Harvard students, staff, and faculty bought a total of $33,854 worth of daffodils, just a whisper short of last year's $34,101. Ninety-seven coordinators around the University worked together to reach the goal.
Maureen Griffin Leary was the top seller from the Law School; second place went to Peter Conlin from the Development Office; and in third, were Jennifer Moltoni and Donna McLean from the School of Public Health.
Other top sellers were Karen Brewster from HBS Publishing Services, Patti Gorman of the Chemistry Department, Lynne Perry of the Harvard Management Company, and Francine Rogers of the Observatory Department.
Donations to hospitals increased by 130 bunches, so this year more than 700 bunches were donated to local facilities – the Cambridge Hospital, Youville Hospital and Youth House, Mount Auburn Hospital, and Sancta Maria Nursing Facility.
The whole project would not have been possible without Harvard Mail Services, under the direction of Ursula Moore and David Berry. They delivered 5,552 bouquets of flowers to 96 Boston and Cambridge locations in one day – a mighty effort.
Russo's of Watertown generously donated the space for the flowers to spend the weekend in cold storage before being delivered on Monday morning.