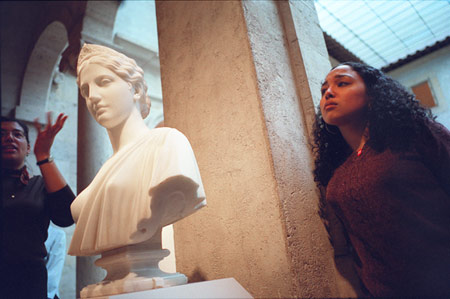 Goethe called architecture "frozen music." What harmonies might he have heard had he visited the Fogg Museum? Perhaps a Haydn symphony to go with the building's Georgian façade, or a Palestrina madrigal to complement the interior courtyard (a replica of the Sangallo loggia at San Biagio, Montepulciano), or a Purcell overture to echo against the baroque English woodwork in the Naumburg Room.
The first Fogg Museum, known as Hunt Hall, was built in 1893 and demolished in 1974 to make way for Canaday. The "new" Fogg was built in 1925 where the home of Harvard naturalist Louis Agassiz once stood — the original Agassiz neighborhood. The building is named for William Hayes Fogg, a Maine merchant who was born in 1817, left school at 14, and grew rich in the China trade. After he died in 1884, his widow, Elizabeth, left $200,000 and the couple's Asian art collection to Harvard.
Since then, the museum's collection has increased many times over, but what makes the Fogg especially delightful are the serene spaces in which these splendid artworks are displayed. Students, scholars, people from the community, and visitors from far and wide all come to stroll through the quiet galleries and take in the beauty that surrounds them. Listen! Underneath that archway – is that an arpeggio just starting to thaw?