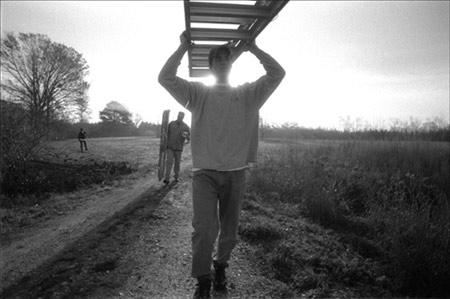 Photos by Justin Ide
In March, 23 volunteers from Harvard traveled to rural North Carolina to rebuild the Antioch United Holy Church, destroyed by arson. Their work transformed the students as well as the church. Gazette photographer Justin Ide and writer Beth Potier joined them to document this "Alternative Spring Break" experience.
On a mild Sunday afternoon in rural Rocky Point, N.C., sisters Irene Wallace and Rosie Johnson stand on a barren piece of land within shouting distance of the home where they were raised.
"My great-grandfather bought this land in 1871," Wallace tells the Harvard students assembled before her. Basking in the unfamiliar warmth of late-March sun, sated by a lunch of ham and collard greens, the students listen with contentment, their spring break yawning before them.
Bending down, one of them picks up a chunk of charred wood.
"Martin Luther King's birthday. It was a very painful day," says Johnson. "We were going to bed and we got this phone call: 'Antioch is on fire, it's burning.'"
"The first thing that flashed in my mind was my grandmother," Wallace recalls. "She was an elderly woman and she would struggle to come to church. And when I saw the church burning, the first thing that came to my mind was my grandmother, struggling to get up the steps."
"But God is still good, through it all," says Johnson, drawing from the deep well of faith that nourishes her. "Blessings after blessings keep on coming our way. And you all are a blessing."
"It took two people to set fire to the old church," Wallace tells the students from Cambridge. "And now we've had 153 to come and put it back together."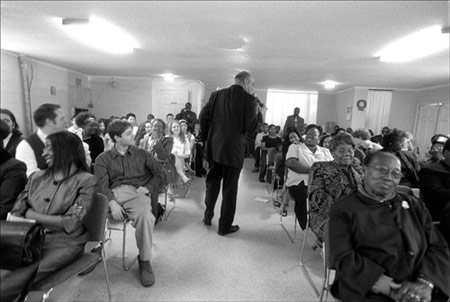 Trading textbooks for tool belts
On Sunday, Jan. 18, 1998, arsonists set Antioch United Holy Church ablaze in an apparent racist hate crime, burning the 59-year-old, newly renovated building to the ground. Since the rash of racially motivated church burnings that gained national attention in the mid-1990s, tiny Rocky Point lost two black churches within a quarter mile of each other to suspicious fires.
Four years later, from March 24-30, 20 Harvard students plus a faculty member, an alumna, and a Cambridge high school student traveled 800 miles to help build a new home for the church. Under the auspices of Phillips Brooks House's Alternative Spring Break program, the students traded textbooks and laptops for drills and tool belts.
Although most of them share a deep commitment to public service, the students' reasons for spending spring break in Rocky Point — far from the beaches and bars popular with many of their classmates — are as diverse as they are.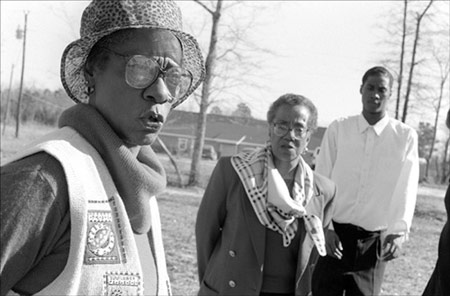 Race and religion are powerful draws for some; many students are taking the opportunity to deepen their own faith, and one hopes the experience will help her come to terms with her own bias against Southern Christianity. For others, it's a chance to help right the wrongs against blacks in the South and throughout the United States.
And, as the 10 students who worked on a similar project in Georgia last year assert wholeheartedly, banging nails for a week is a blast.
"Last year … was the most incredible experience," says Alex Grodd '04. "I made some of my closest friends in the world on this trip."
Fun and friendship aside, their contribution is tangible. In one week, they will sheetrock and floor about one-third of Antioch's new building. The entire interior will be constructed with volunteer labor, saving the small church tens of thousands of dollars that would have taken the parishioners several more years to raise.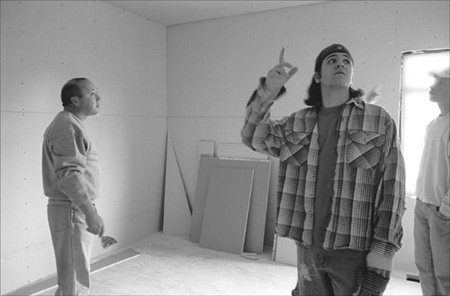 The Harvard group is the eighth passel of volunteers to lend their sweat to the effort. With a full spring of free labor lined up, Wallace, who is project manager for the rebuilding, anticipates that the church will be finished by this summer.
First day — a Sunday service
Before they visit Antioch's former or future home, the Harvard students join members of Antioch in their temporary home, a small community center, for Sunday worship.
"It can get a little noisy in here," the Rev. Henrietta McGlenn warns the visitors as singing swells and praying goes public.
The service, for which a guest minister has come from several hours away, runs nearly three hours. Some students — those who grew up in black churches — are clearly at home, singing along with the choir and praying with passion. For others, the unique experience brings wide-eyed curiosity. "I've traveled to other cultures, but I've never seen anything like this in the United States," says Gerard Hammond '02.
If any Harvard students feel out of place, they certainly do not feel unwelcome. From the pulpit and the pews come acknowledgments of the students' generosity. "I must have hugged a hundred people I never met before … within the space of a couple hours," says Jon Bloom '04.
'Sheetrockin' on heaven's door'
At 7 o'clock Monday morning, mist hangs over the fields of Rocky Point when the work week begins for the trip leaders: Grodd, Tim McCarthy '93, Greg Santoni '04, and Jimmy Rourke '04. McCarthy, a lecturer in history and literature and Quincy House tutor, led last year's trip to Georgia and three church-rebuilding projects while he was a graduate student at Columbia. Santoni brings many years of experience from building projects with his church youth group at home in Saratoga Springs, N.Y.
Their skills will be more valuable than they'd imagined, for they will not be working alongside a professional crew, as they expected. In less than an hour, local contractor Charles Lee instructs them on the fine points of installing Sheetrock then departs for another job, leaving only advice and a cell phone number in his wake.
Back at Irene Wallace's sprawling home, where the entire group stays for the week, students emerge from sleeping bags and stumble into overalls and sweatshirts. Everyone stayed up far too late watching the previous night's marathon Oscar awards, cheering the historic hat trick that honored black actors Denzel Washington, Halle Berry, and Sidney Poitier.
An hour later, the entire group is on-site and eager to work. The leaders give a quick overview and divide the group into teams, encouraging everyone to work with people they don't know well. Even this early in the trip, the students have bonded remarkably, with fast friendships forged during the 15-hour van ride from Cambridge to North Carolina and then in the clubhouse atmosphere of Wallace's home.
Teams fan out across the church, turning what will become the sanctuary into a temporary workshop. Strengths and preferences emerge: Nina Jacobi '04 and Sonia Kastner '03 revel in the meticulous task of measuring, while Lauren Hirshon '03, who throws javelin for the track team, is the go-to gal for the toughest drilling.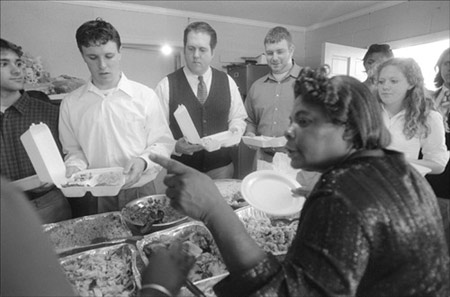 As they slowly master their tasks, the students hit a steady but easygoing pace. A boom box pumps out a steady pulse of hip-hop and team spirit swells. Rourke's group dubs itself Jimmy and the Sheetrockahs, a playful jab at Rourke's thick Boston accent. Rising to the headliner role, Rourke croons "We're sheetrock-rock-rockin' on heaven's door."
"Don't quit your day job," someone yells from another room.
It's 1:30 before the group breaks for lunch and treks up the road to the home of another Antioch member, Adline Johnson. All week, Johnson and Wallace feed the Harvard gang, ferrying rich Southern cooking into their hungry mouths.
New skills, new friends
By quitting time that night, the students have completed a hallway and installed most of the ceilings. The pace never slacks off during the week. Even a visit by a local TV crew fails to interrupt them; McCarthy must pry students from their jobs to give interviews. "Harvard kids, if you give them a goal … they meet it and exceed it," Grodd says.
By midweek, skills solidify and teams gel into graceful building operations. Nell Brennan '02, who nearly bored into her thigh the first day when she slipped her drill into her overall loop, confidently pops screws into Sheetrock with one-handed jabs.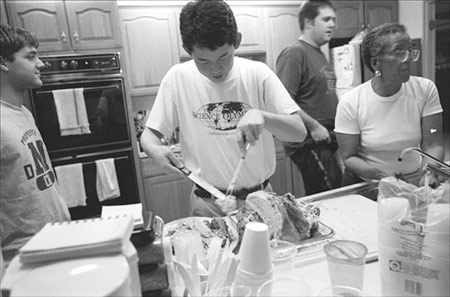 Biana Fay '04 scrapes the entire church with a spackling knife to ensure that all Sheetrock screws are flush; Malcolm Green, a high school junior from Cambridge, follows her with a drill. Green met McCarthy when McCarthy was an undergraduate at Harvard and he was 3 years old; ever since, they've had a close relationship that drifts from friend to brother to father to mentor.
Later in the week, the students become more involved with the Antioch community. Grodd and others coordinate a basketball and pizza night with some of the kids they met at church on Sunday, a high point of the trip for the Harvard group and Rocky Point kids alike.
A legacy of hope
As their spring break winds to a close, the students slowly disengage from Rocky Point with parting rituals. Thursday night they honor Wallace with a lasagna dinner and gifts. Josiah Pertz '05, whose guitar playing has led nightly sing-alongs, wrote a song for their hostess, which the group sings. In a card, Tzu-Huan "T Lo" Lo '03 calls her "a true heroine of the South."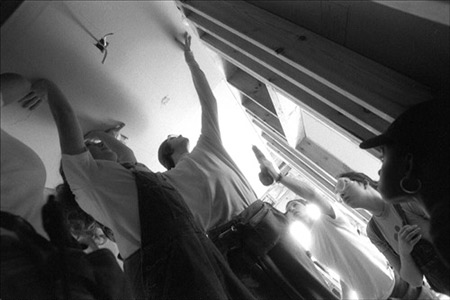 On Friday, the group completes their tasks with time to spare. Walls, floors, and rooms exist where five days ago there was only a skeleton. The pastor's study, a community room that will double as an after-school space for local children, the handicapped-accessible bathrooms — complete with a shower that will qualify the building as a hurricane shelter — have taken shape at their hands.
Before collaboratively putting up the final piece of Sheetrock, each student writes his or her name on the wall beneath. They admire their work, clean up, lock the building, and walk back to the site of the burned church.
There, all 23 stand in a circle, sharing their thoughts on the week and praying for the community of Antioch United Holy Church. It's a powerful and emotional moment, and tears fall to the sandy soil where a week before Wallace moved the Harvard students with her story of the burning of Antioch.
To this land that her great-grandfather bought over a century ago, the students from Harvard give their sweat and their tears and their prayers. Like the church they helped build, their legacy of hope will endure.