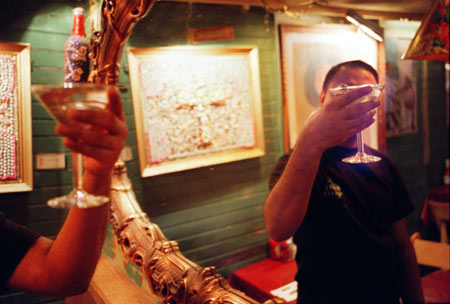 College students have continued binge drinking at about the same rate over the past 10 years, despite increases in alcohol education programs and substance-free on-campus housing, and a decrease in high school binge drinking, according to a Harvard School of Public Health study.
The positive trends have been offset by an increase in heavy drinking by students who do drink, with an increase in the percentage of frequent binge drinkers to 22.8 percent from 19.7 percent in 1993.
"This to us indicates very strong forces are continuing to support drinking on campus," said Henry Wechsler, director of College Alcohol Studies and a lecturer on social psychology at the Harvard School of Public Health. "The drinking style on campus is still one of excess."
About 44 percent of college undergraduates reported binge drinking at least once in the two weeks prior to being surveyed, according to findings in the 2001 College Alcohol Study, whose results were released March 25. The study, which was also conducted in 1993, 1997, and 1999, also indicated that, of students who drink, 70 percent engage in bingeing. The study defines binge drinking as having five or more drinks on one occasion for men and four or more drinks on one occasion for women. Frequent binge drinkers binged on at least three occasions in the previous two weeks.
The survey includes responses from more than 10,000 full-time students at 119 four-year colleges located in 38 states. Wechsler declined to identify individual schools, saying it's a problem of all colleges, not just those involved in the survey. He did say that selective schools such as those in the Ivy League had results similar to other institutions. Results were published in two articles in the Journal of American College Health's March issue.
The surprising thing in this year's study was the steady 44 percent rate despite other positive changes, Wechsler said. That indicates not that those changes were failures, Wechsler said, but that they alone can't fix the problem.
"I think what colleges need to do is go beyond the kinds of programs in place at most schools aimed at educating students to a restructuring of the whole environment, both campus and the community," Wechsler said.
Counterbalancing the positive changes are entrenched forces that promote drinking, Wechsler said. Fraternities and sororities continue to be centers of campus drinking, he said, with 75 percent of those living in frat or sorority houses reporting binge drinking in the survey. While that number is actually down from 83 percent in 1993, it's still indicative of a problem, Wechsler said.
Another problem area is college athletics, Wechsler said, with drinking commonly being associated with athletic events and, outside those events, athletes often involved in heavy drinking.
Economics are also working against a downward trend in heavy drinking, Wechsler said. Typical college campuses are ringed by bars and liquor stores that market heavily on campus, offering low prices and easy access.
While the overall bingeing rate held steady, the overall picture of college drinking hasn't been completely static, Wechsler said. There has been a trend of polarization, with more students abstaining and heavier drinking by those who drink. More students are living in substance-free housing on campus, rising from 17 percent in 1993 to 28 percent in 2001. Rates of bingeing at all-women colleges have risen, from 24 percent in 1993 to 32 percent in 2001. Despite that increase, bingeing rates at all-women colleges are still lower than for women at coed institutions.
While fewer high school students are bingeing, underage drinking at college campuses continues to be a problem. Underage students accounted for about half — 48 percent — of the drinking on campus.
Student housing was a major factor in the level of drinking, Wechsler said, with 75 percent of those living in frat or sorority houses reporting bingeing, 51 percent living in dormitories, 50 percent in off-campus housing without their parents, 36 percent living in substance-free housing, and 25 percent living at home with their parents.
The study did provide cause for hope. Wechsler said that states with tough underage drinking laws reported lower rates of underage drinking, showing that those laws are working.
Colleges and universities need help from the surrounding communities to tackle this problem, Wechsler said, with tougher laws, limits on on-campus alcohol marketing, and higher prices for alcohol. Colleges, for their part, he said, should look into the connection between drinking and athletics and fulfill their longstanding promises to crack down on fraternity- and sorority-related drinking.
Finally, Wechsler said, parents should take an active role, talking to their children about alcohol use and — at a minimum — refrain from bringing alcohol to their underage children in the dormitories, as some students reported.
"I think parents should take the problem of drinking alcohol seriously for their underage students," Wechsler said. "I think the one thing we need to do is get real about this. It's a serious problem and people are groping for quick and easy solutions. And there aren't any."