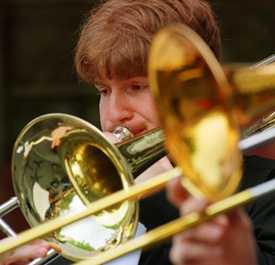 For the 10th straight year, Harvard will explode with the creative outpouring of students, faculty, and alumni next weekend (May 2 – 5), as Arts First fills the entire campus with a riot of color, sound, and motion.
To mark the event's 10th anniversary, Arts First will go al fresco with open-air events and installations, including a new outdoor performance stage and student-created sculptures in Harvard Yard. In all, over 2,000 students and faculty will participate in more than 225 events, most of which are free.
"This is a weekend that celebrates students' creative drive," said Jack Megan, director of the Office for the Arts (OFA) at Harvard, which oversees the annual festival. "It's the full realization of all the creative work that students have been doing all year."
Although this is his first year participating in Arts First, Megan, who came to Harvard in July 2001, is no stranger to the annual orgy of creativity. Last year's Arts First came just after Harvard had offered him the position of OFA director; the wealth of student talent he witnessed as he wandered around the festival incognito helped convince him to take the job.
Arts First goes beyond showcasing creativity to inspiring it, spurring new forms of artistic collaboration. "Untied Up," an evening-long event directed by Elizabeth Bergmann, director for the dance program, is one such multimedia extravaganza. Presented at the Rieman Center May 2 and 3, "Untied Up" brings together the choreography, visual imagery, a sound score, and text of student choreographers, composers, writers, and artists.
Students in Visual and Environmental Studies are creating sculptures and installations that will transform Harvard Yard into a rumpus room for the imagination. One of them, a 45-foot iron bridge that will span two paths in the Old Yard, encourages contemplation of alternate pathways. Another, called "A Dysfunctional Playground," features slides, swings, and other familiar playground equipment with a dysfunctional twist.
In a more traditional vein, some of Harvard's premier music groups – the Harvard Radcliffe Orchestra (HRO), Harvard Glee Club, Radcliffe Choral Society, and Harvard-Radcliffe Collegium Musicum – unite to perform the premiere of HRO director James Yannatos' "Symphonies Sacred and Secular 'Prais'd be the Fathomless Universe'" (May 3).
For artistic dabblers, Saturday (May 4) offers a puu-puu platter of creativity, starting with the annual Arts First parade, a procession of jugglers, dancers, mariachi groups, Hasty Pudding costumed characters, and others led by the Harvard University Band (11 a.m.).
President Lawrence H. Summers will host the opening ceremonies in Harvard Yard at 11:30, which includes dance, a fanfare, and a magic presentation. All afternoon, a panoply of artistic endeavors, from chamber music to a cappella singing to Celtic and Korean music, will ring through the Yard.
Arts First also celebrates the accomplishments of Harvard alumni. On Saturday (May 4), Summers will present this year's Arts First Medal, created to honor a Harvard and Radcliffe alumnus/a or faculty member who has achieved excellence in the arts, to renowned harpsichordist, conductor, and teacher William Christie '66.
Christie will also conduct the Harvard Choral Fellows and the Harvard Baroque Chamber Orchestra in a performances of French Baroque music, of which he is the world's foremost interpreter, in a special Memorial Church concert on Sunday (May 5).
Christie's classmate Isaiah Jackson '66, music director of Boston's Pro Arte Chamber Orchestra, returns to college as guest conductor of performances by the Harvard University Choir and Kuumba Singers (May 4). Jackson is internationally known for his projects combining gospel music with the symphonic tradition.
Veteran Hollywood producer and director Ed Zwick '74 ("Glory," "Traffic") will share stories from his trade with students in a series of discussions May 2 and 3.
Far more than visiting starpower, however, Arts First highlights the artistic accomplishments of Harvard students, says OFA director Megan. Harvard, Megan is fully aware, will always be exalted for its academics first and foremost. But "people have other stuff inside their hearts and souls that needs to be expressed in other ways," he said. "Arts First gives them that opportunity."