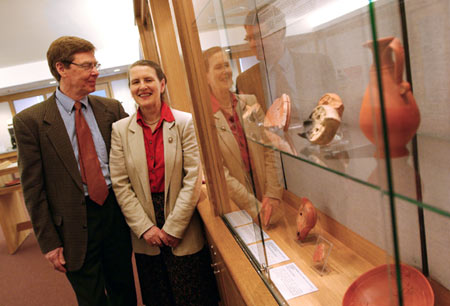 If you think globalization is a recent phenomenon, check out the exhibition in the newly renovated Divinity School library, "Light From the Age of Augustine: Late Antique Ceramics From North Africa (Tunisia)."
Curated by Annewies van den Hoek, visiting lecturer on Greek, and her husband John Herrmann, curator of classical art at the Museum of Fine Arts, Boston, this is the first-ever exhibition devoted to African Red Slip Ware – terra cotta-like plates, bowls, oil lamps, and other everyday items that were manufactured in what is now Tunisia and shipped to all parts of the Roman Empire.
What makes these pieces so interesting is not their rarity or even their aesthetic perfection, but the profusion of images stamped on or applied to their surfaces.
These images provide a window on the cultural and religious life of Roman citizens during the fourth and fifth centuries A.D., a time when Christianity was gaining converts throughout the Roman world and competing with pagan religions.
Some pieces feature biblical themes – Adam and Eve, Daniel in the lion's den, the sacrifice of Isaac, while others contain images of pagan gods and heroes – Aphrodite, Cupid, Achilles, Hercules. Archaeological evidence suggests that the same manufacturers may have produced wares for both pagan and Christian consumers, decorating some with images of Christ and stories from the Gospels and others with scenes of gladiators and charioteers, nymphs and amazons.
"These pieces give you a sense of the historical context out of which Christianity emerged and emphasize the cultural pluralism of the time," said van den Hoek.
"Light From the Age of Augustine: Late Antique Ceramics From North Africa (Tunisia)" will be on display at Stendahl Lobby, Andover-Harvard Theological Library through June 24.