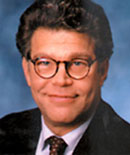 Political satirist and comedian Al Franken will share his wit and wisdom with this year's outgoing seniors as the 2002 Class Day speaker, the Harvard College Class of 2002 Senior Class Committee announced Tuesday (April 16).
Franken, a member of the class of 1973, is a former writer on "Saturday Night Live" and creator of the show's New Age cable TV host Stuart Smalley, among other characters. Franken follows last year's appearance by U2 lead singer Bono and "Late Night" host Conan O'Brien '85 in 2000.
"They're really excited about this. We know he'll be quite funny as well as have some good things to say," said Hoopes Wampler, the Harvard Alumni Association's director for college alumni programs.
Wampler said the class wanted to follow on last year's appearance by Bono and feature an entertainer like Franken.
Franken, whose work as a writer, producer, and comedian has won him both Emmy and Grammy awards, has been on campus several times recently. He appeared at a brown bag lunch for the Joan Shorenstein Center for Press, Politics and Public Policy last fall, and appeared at the annual Arts First celebration in 2000.