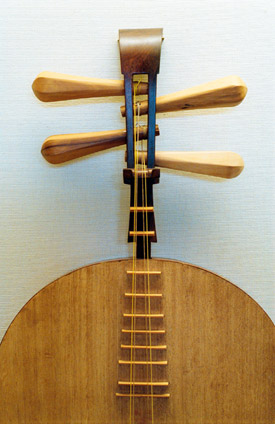 "Heard melodies are sweet, but those unheard/Are sweeter," wrote John Keats. In the silence of the Music Building's Early Instrument Room, the unheard melodies are practically deafening.
Here is a piano made by Streicher & Sons of Vienna in 1869. It is the piano Johannes Brahms would have played. Stare hard at the bench and you can see his burly, bearded form swaying as he unfurls arpeggios.
Smaller and lighter, the pianos (more properly, pianofortes) of Mozart and Beethoven stand at the other end of the room. These are reproductions, but so accurate that the imagination has no trouble picturing Wolfgang Amadeus in powdered wig and knee breeches playing minuets on one and the stormy, unkempt Ludwig pounding the keys of the other.
There are harpsichords, including a German double harpsichord made by William Dowd, and a Dolmetsch clavichord once played by virtuoso Gustav Leonhardt. Lewis Surdam, manager of piano technical services, remembers being asked to tune the little keyboard instrument – ancestor of the modern piano, but without the piano's volume – for Leonhardt's impromptu recital a few hours hence. Surdam got it ready in time, but adjusting the instrument's cloud of hair-thin wires nearly cost him his sanity.
In a case against one wall are the baroque Isham viols, formerly the property of musicologist Willi Schmid and frequently played in concerts by him and his colleagues in cities throughout Europe. (They were donated by Music Library benefactor Mrs. Ralph Isham.)
Wind instruments dominate another case, including a collection of French 19th century clarinets, a wooden transverse flute, and the remarkable Serpent D'Église, carved from walnut in the 17th or 18th century. It would be 7 feet long if it were possible to straighten it.
For some instruments, the name of the maker has been preserved. One Simon Gilbert, musicien de la cathedrale et facteur d'instruments, was responsible for creating a violinlike instrument called a Pardessus de Viole in the city of Metz in the year 1730. A French instrument maker named François-Louis Pique created the bass cittern or archcistre (a relative of the guitar) some time in the 18th century.
The instruments aren't just for show. They are available for practice or performance by faculty and students with an interest in playing the music of the past on the instrument for which it was written.
Many of the keyboard instruments were collected or commissioned by Robert Levin, the Dwight P. Robinson Professor of Music. Thomas Kelly, professor of music, acquired many of the stringed instruments.
According to administrator Nancy Shafman, the Music Department hopes to someday enlarge the room and procure the services of a curator.
But regardless of circumstances, it seems certain that the unheard melodies of centuries past will continue to haunt the room as long as these triumphs of the instrument-maker's art are gathered here in soundless concert.