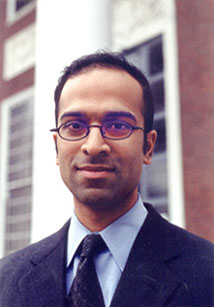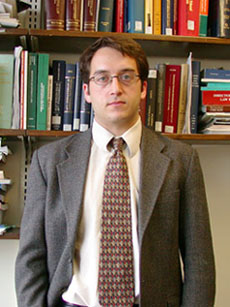 Guhan Subramanian Ryan Goodman Continuing to enact a strategic plan that calls for expanding its core faculty and fostering greater student-faculty interaction, Harvard Law School (HLS) has hired two new assistant professors. Ryan Goodman and Guhan Subramanian will officially join the HLS faculty in July and begin teaching in the fall.
"By recruiting Ryan Goodman and Guhan Subramanian, we have added two rising stars to our already impressive faculty," said Dean Robert C. Clark. "Ryan and Guhan are both terrific teachers who will bring new perspectives and expertise to many Harvard Law classrooms. By adding them to our permanent faculty, we have taken another crucial step toward implementing the goals outlined in our strategic plan."
The addition of Goodman and Subramanian as assistant professors brings the permanent HLS faculty from 80 to 82 tenured and tenure-track professors. This core teaching cohort is supplemented by more than 100 additional faculty members who work as visiting professors, adjunct professors, clinical instructors, and lecturers on law. Together they teach 268 different courses and seminars, the largest curriculum in the School's 185-year history.
Goodman, who holds a J.D. and Ph.D. from Yale University, is currently a Bigelow Fellow at the University of Chicago Law School. An expert in international law and human rights, Goodman is researching multilateral treaties in the context of international human rights. Prior to joining the University of Chicago in 2000, Goodman worked on the International Criminal Tribunal for the former Yugoslavia and the U.S. State Department.
"I am thrilled to join the Harvard community, especially at such an important moment in transnational and global affairs," said Goodman. "Harvard has always been at the forefront of developments in international law, and I am eager to contribute all my efforts to helping continue and deepen that tradition."
Subramanian, a 1998 graduate of HLS and Harvard Business School (HBS), is currently an assistant professor at HBS, where he has taught since 1999. His expertise is in corporate law and negotiation, and his research has included studies of defense mechanisms in hostile corporate takeovers. Prior to joining the HBS faculty, Subramanian worked at the consulting firm of McKinsey and Company, where he helped start the mergers and acquisitions practice.
"I am very excited to be joining the Harvard Law School faculty. I look forward to working with and learning from world-class scholars in the negotiations and corporate law arenas, and I hope to make important contributions in both of these fields in the years to come," said Subramanian. "I also aspire to be an excellent teacher – Harvard Law School was a transformative experience for me as a student, and I hope to be able to similarly inspire the next generation of HLS students."
The strategic plan at HLS calls for the addition of 15 permanent faculty members over the next decade. This fall, a key part of the plan went into effect when first-year sections were reduced from 140 students to 80, and specific faculty leaders developed intellectual and social programming for sections outside the classroom.
During Dean Clark's 12-year tenure, the size of the permanent faculty has risen from 66 to 82 professors, while the size of the overall student body has remained constant. These additions have allowed expansion of the curriculum and increased the diversity of the faculty. Under Clark, the number of women on the permanent faculty has nearly tripled and the number of minorities has more than doubled.