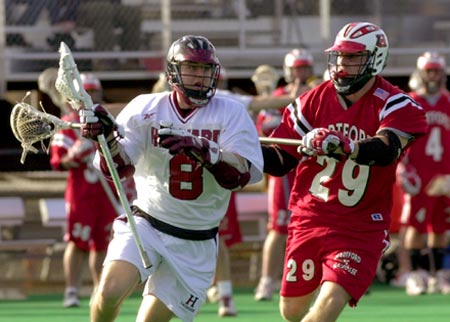 Scoring three unanswered goals in the first quarter, the Harvard men's lacrosse team soared past the Hartford Hawks, 11-7, this past Saturday (March 9) at Jordan Field. Junior attackman Matt Primm and senior co-captain Jim Christian notched three goals apiece in the home opener, as Harvard goalie Jake McKenna '04, who had 14 stops on the day, staved off a steady Hartford attack with seven saves in the opening period alone. The Crimson – ranked 25th in the nation – secured a 2-0 record with the win, while the Hawks dropped to 1-1.
Harvard jumped to a 4-0 lead early in the second stanza when freshman Mike McBride recorded his first career goal on Harvard's home turf. The Hawks responded two minutes later when Frank Fenimore found an open hole past McKenna. After trading two more goals, the teams closed out the first half with Harvard owning a 5-2 edge.
After the break, Harvard netted its first of four goals just 40 seconds into the third period. And though Hartford managed two goals to remain within striking distance, the Crimson's 14 shots on goal in the third period – a game high – shocked the Hawks, yielding a 9-4 spread going into the final quarter.
Following his third and final goal of the day at 1:04 in the fourth, midfielder Christian put the Crimson up 10-4, giving Harvard its largest lead of the day. Though three Hartford tallies brought the Hawks within four, McBride's goal at 4:04 capped the game at 11-7.
The Crimson will host the Stags of Fairfield University this Saturday, March 16, at 1 p.m.