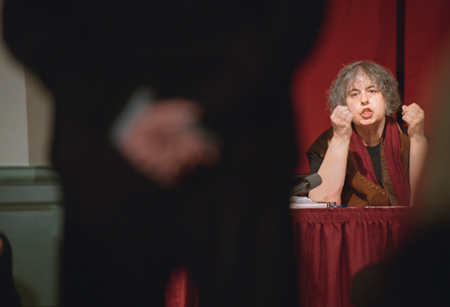 Old-school feminism came to the Radcliffe Institute of Advanced Study last week (March 12), as author and activist Andrea Dworkin spoke and signed copies of her latest book, "Heartbreak: The Political Memoir of a Feminist Militant," at the Cronkhite Living Room.
An outspoken activist against pornography and violence against women, Dworkin's talk marked the acquisition of her papers by the Schlesinger Library. "It's something that somebody like me could never imagine. I'm not one of 'the ladies,'" said Dworkin, dressed in her trademark overalls and sneakers.
The author of books of feminist theory as well as poetry and fiction, Dworkin first came to the public eye in 1965, when she was arrested for protesting the Vietnam War and made headlines for speaking out against her brutal treatment in the Women's House of Detention in New York. Since the 1980s, she is most recognized for her efforts, with feminist writer Catherine MacKinnon, to criminalize pornography, claiming it is a violation of equal rights.
"Andrea Dworkin exemplifies the tradition of radical activism and militance born in the '60s," said Nancy Cott, Carl and Lily Pforzheimer Director of the Schlesinger Library and Professor of History at Harvard. "She has had a militance and a radicalism on this issue for a long time where many other voices have moved on."
Calling Dworkin a "writer of great power and variety," Cott notes that her controversial viewpoints have likely yielded a lively collection of papers, which the Schlesinger will catalog for researchers. In all, the Dworkin collection consists of 56 linear feet of material dating from 1947 through 2000, including personal and professional correspondence, photographs, drafts of writings, speeches and interviews, reviews, clippings, teaching materials, audio, and videotapes.
Soft-spoken, Dworkin carried a big stick, her brief talk weaving a loose history of the feminist movement with the importance of libraries. "There's nothing that has more to do with survival than a library," she said, particularly for women. "It's the truth about women that get[s] lost: that our work gets lost, that our lives get lost. The Schlesinger Library has done me the great honor of letting me survive, of letting my work survive."
Dworkin spiked her wandering speech with the blunt dogma for which she is known. "To talk about anti-loyalty is to talk about antifeminism. It's to say that women aren't worth very much," she said. "Antifeminism is a way of selling out other women, of refusing to be faithful to other women."
Hearkening to the early days of the women's movement, she recalled that women's activism about rape, battery, pornography, and prostitution was perceived as hostile and man-hating. "No one asked us what there was to like, but never mind," she quipped.
To an audience that included college students born years after feminism's most radical days, Dworkin did not entirely sidestep her disillusionment at the more mainstream roles of women today. Women's "recolonization" into the home and child-rearing, she said, "is not a bad choice, but it's not, perhaps, the best choice. … What happens when women are in the houses with the children, among other things, is that women get beaten up. Women suffer battery. Women have nowhere to go."
Before fielding questions about fertility technology, feminism in mainstream politics, and loyalty among women of different ethnicities, Dworkin summarized her musings with a call to action.
"We've just begun, we have a lot to do, it's not over, we're not finished. And I thank you very much," she said, bringing her talk to an abrupt close.