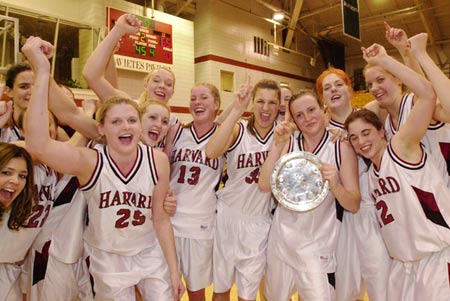 Overachievers?
A week after clinching a share of the Ivy League title (in a 77-75 double OT thriller against Cornell), the Harvard women's basketball team went on to capture the coveted plate outright with a 77-65 win over Yale on Friday, March 1. Freshman phenom Reka Cserny dropped 19 in the win, while forward Hana Peljto '04 – last season's Rookie of the Year – bested her 20.4 point-per-game average with 24 points. She also grabbed 13 boards.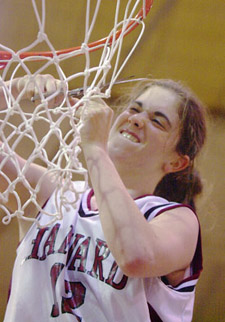 A day later, with an automatic bid to the NCAA playoffs in hand, the freshly minted Ivy champs – previous winners in 1998 – bounced Brown 76-63. Peljto, a rebound shy of a double-double, poured in a game-high 21 points, while senior Sharon Nunamaker – playing in her final game at Lavietes Pavilion – recorded a career-high in points and rebounds with 13 and eight, respectively. Following a 32-32 tie at the break, Harvard sparked a 23-6 second half run in rolling to its 12 straight victory and seventh league title.
And this past Tuesday night (March 5), the team wrapped up its regular season with a 16-point victory over Dartmouth in Hanover, downing the Big Green 58-42. The too-hot-to-handle frontcourt duo of Cserny and Peljto, torching opponents all season long, combined for 33 points. Since Jan. 5, the Crimson have posted an average margin of victory of 13 points per game in league play, while dropping just one league game – a 59-55 decision to Princeton on Jan 11.
The Crimson (22-5, 13-1 Ivy) will uncover its NCAA Playoff seeding and pairing next Sunday, March 10. Sixteen sites throughout the country will host the first round, which kicks off March 15-16.