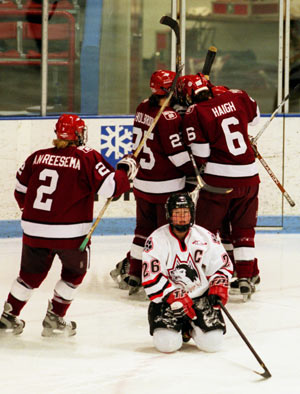 After an 8-0 drubbing of B.U. by B.C. in game one of the first round of Tuesday's 24th annual women's Beanpot Tournament, the small but passionate Matthews Arena crowd were treated to a finesse-filled thriller once Harvard and Northeastern took to the ice. Though, given the Beanpot history between these two teams, the final outcome – a 4-3 OT Crimson victory – just about seems standard. Sophomore Lauren McAuliffe's goal in extra minutes marks the fourth consecutive year that Harvard has defeated Northeastern – in overtime – during Beanpot action. And though this wasn't the championship game as in past years, Harvard will get its chance next Tuesday (Feb. 12) against the Eagles.
The second ranked Huskies struck first with just 10 seconds remaining in the first period when Michelle Lorion sliced one past Crimson goalie Alison Kuusisto '02. Harvard tied it up at 4:27 in the second stanza when freshman Kat Sweet fed teammate Tracy Catlin '03, who wristed a shot past Huskie goalie Chanda Gunn. Five minutes later Northeastern went up 2-1 when a pass from behind the net freakishly deflected past Kuusisto. A composed Crimson team responded with another tying goal at 15:30 in the second, when McAuliffe whipped the puck across the front of the net, where Sweet sneaked it past the left pipe.
Late in the third, Northeastern went up 3-2 when Brooke White scooped a shot into Harvard's net. Kuusisto, who stopped 42 shots, would not be scored on again. Taking advantage of a power play one minute later, Catlin notched her second goal of the evening, wristing a shot high over Gunn's head to tie the game at 3.
Ten minutes into the extra frame, freshman Nicole Corriero set up the game-winning shot, feeding a pass from behind the net to a ready McAuliffe, who fired the puck past Gunn.
The Crimson resume ECAC action this weekend with trips to No. 5 Dartmouth and Vermont.