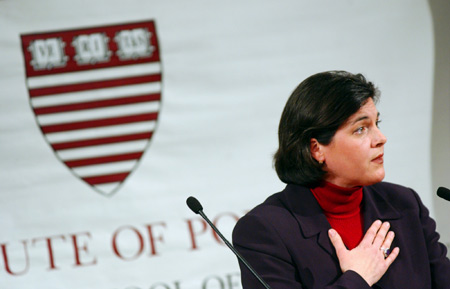 The Sept. 11 tragedies irretrievably changed the nature of public service and made it more important than ever that people take an active interest in their communities and in the public servants that make them work, Massachusetts Gov. Jane Swift told a Kennedy School audience Tuesday (Feb. 5).
"My message tonight for all of you is we need you now more than ever," Swift said. "Not since John Kennedy told us to 'ask not' has there been such an interest in public service."
Swift said that the terrorist attacks have affected how civil servants do their jobs, from police and firefighters to governors and top government administrators. There is an unprecedented level of cooperation and information-sharing with the federal government and a new thoughtfulness about what information to publicize.
Swift, who took office in April 2001 when then-Gov. Paul Cellucci accepted the Canadian ambassadorship, said she'll never feel the same answering the phone since she did on Sept. 11 and found out that two planes originating in Boston had hit the World Trade Center towers.
"It was among the worst moments of my life," Swift said.
Swift spoke to about 300 students, faculty, and staff at the John F. Kennedy School of Government's ARCO Forum. Her 20-minute talk, "Rising to the Occasion: Public Leadership in Challenging Times," was sponsored by the Kennedy School's Rappaport Institute for Greater Boston, the KSG Republican Caucus, the Harvard College Republican Club, and the Institute of Politics Student Advisory Committee.
Kennedy School Dean Joseph S. Nye introduced Swift, praising her leadership since the Sept. 11 tragedy and calling her a good example for Kennedy School students to study.
"She brings to us the very personal experience we try to study from afar," Nye said.
Swift spoke about her own leadership style and said she draws strength – and perspective – from her family. She also spoke of the personal importance of her Catholic faith, despite her disagreement with the church on abortion.
"I have an abiding faith that assures me that what's important at the end of the day is whether we made the world a better place," Swift said.
Massachusetts today is a very different place economically than it was a year ago, Swift said, and that fact is reflected in a much tighter state budget. Swift highlighted some of the tough choices she faces, telling the audience she had to cut things like adult preventive dental care and stop-smoking programs in order to more fully fund child welfare programs and expand Medicaid for the mentally ill.
Swift also spoke briefly about her decision to run for a full term as governor, saying she feels a "compelling obligation" to serve the state and its people. She also urged members of the audience to get involved, no matter what their political stripe.
"I also hope that, whatever your views, you're out there running yourself or working for someone else who represents what you believe in," Swift said, adding a reference to her delivery of twins last May, which made her the first governor in U.S. history to give birth while in office. "Don't wait for the perfect time or perfect opportunity. I'm evidence there isn't any such thing."
After her talk, Swift fielded some tough questions from the audience, which targeted everything from her budget priorities to her ability to lead after a series of gaffes upon taking office. Swift got high marks from some in the audience for her apparent candor, both in her talk and in answering questions.
"She put everything on the table and didn't skate around the tough issues," said Abby Adair of Somerville. "I was pretty impressed with her. She was candid and honest."