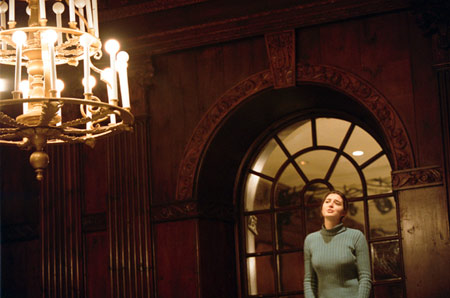 Staff photos by Stephanie Mitchell
Poor Figaro! All he wants to do is marry his beloved Susanna and settle down, but look what he has to put up with – a lusty count with the hots for his wife-to-be, an older woman who'll forgive the money he owes her if he'll marry her instead, a goofy young page who's infatuated with women in general, and an assortment of other characters who insist on impersonating one another and adding to the confusion.
It's one crazy day, all right, condensed into a few hours of passion, comedy, and superb music. And it's all starting tonight, when the Dunster House Opera Society (DHO) puts on "The Marriage of Figaro" by Wolfgang Amadeus Mozart.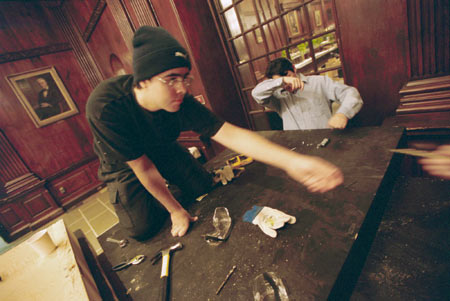 Other Harvard houses perform operas, but the DHO is the only one in which the singers, musicians, conductor, and technical crew are all undergraduates. But don't lower your expectations on that account. There are some outstanding talents in this production, and the performance promises to be fresh, original, and enthusiastic. Tom Lowe '05, for example, who sings the part of Figaro, spent several years performing in "Cats" and "Les Miserables" on London's West End.
The Dunster House Opera Society was founded in 1992 and is open to all undergraduates. Its goal is to make opera accessible to everyone interested in participating, and to introduce opera to its audiences as something undergraduates can tackle, not a lofty art form restricted to highly trained performers and enjoyed only by a musically sophisticated audience. Previous productions have typically played to sold-out audiences.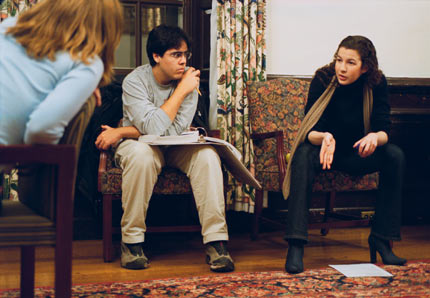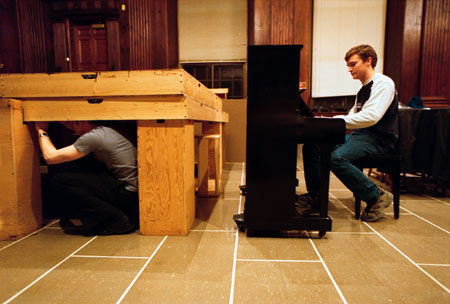 Would tonight's production of "Figaro" make a good Valentine's Day date? Music director Michael Schuler '02 thinks so.
"In the end, everyone's very happy, all the couples are back together, and everyone's in love. It's perfect for Valentine's Day!"
The curtain will rise tonight at 8:30 in the Dunster House Dining Hall. Subsequent performances are on Feb. 15, 16, 21, 22, and 23. Tickets are available at the Havard Box Office. For further information, please call (617) 496-2222.