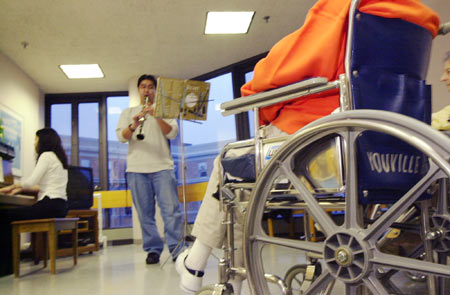 The notes of Ralph Vaughan Williams' "Lark Ascending" rolled over the audience, slow and melodious, almost haunting. But Daniel Chen's violin performance wasn't in a classical concert hall, it was in the one of the linoleum-floored common areas of Youville Hospital.
And even if the Harvard junior had played to a room full of classical music aficionados, he couldn't have had a more attentive audience than the dozen or so senior citizens who listened to the recent performance.
"It's a real gift that they come," said Joan Benjamin-Farren, senior therapeutic recreation specialist at the hospital. "Everybody feels loved. The intention is perfectly clear. It's a gift of music."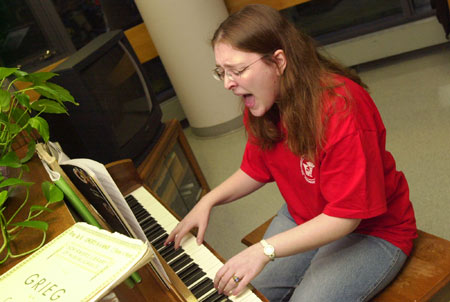 Chen is a member of Mihnuet (Music in Hospitals and Nursing Homes Using Entertainment as Therapy), a Harvard student organization that, as its name suggests, brings music to area hospitals and nursing homes in an effort to lighten the days of patients staying there. Most of the students involved in Mihnuet are musicians and singers who've been performing for years but who do not plan to make a career out of it.
Chen, a biochemistry concentrator, was one of five Mihnuet members who made the trip to Youville, bringing violin, clarinet, and piano music, as well as a vocal or two to the facility's elderly patients.
"I think it's of very fine quality and it should be a treat for those who get to hear the music," said Rita Marie Steinle, who was in Thursday's audience.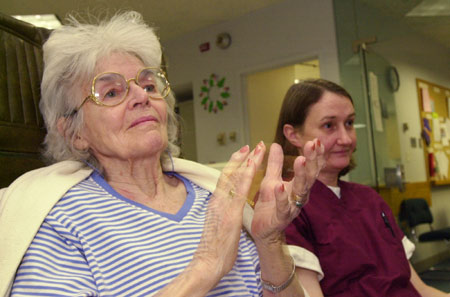 Music engages
Benjamin-Farren said that recreation generally, and music specifically, helps draw out patients, who, in addition to hearing the music, get to see and interact with the Mihnuet musicians.
"The hospital setting disengages you from a sense of who you are," Benjamin-Farren said. "Listening to music is a restoration of their deepest and most essential selves."
That therapeutic effect is the reason Mihnuet was formed in 1996, according to senior Mi Jung Kim, one of Mihnuet's outgoing co-directors.
"Harvard students started it because they were convinced that when people are hospitalized, not all their human needs are met," Kim said.
Though the music itself may be soothing, Kim said Mihnuet members know that they are basically entertainers, not music therapists who have specific training in how to use music to heal.
Mihnuet has visited about 30 sites in the Boston area over the years, with about 12 sites currently active, according to Rachel Brodin, a junior and the organization's other outgoing co-director. Some closer sites are visited monthly, while locations further away are visited less frequently.
Casual, but passionate
Part of the attraction of the organization to Harvard students is its loose structure. Students play many different instruments and different styles of music. There are no auditions and practices are voluntary, as is attendance at different performances. About four years ago, the group formed the Crimson Crooners, a vocal group that performs a wide variety of songs, from Christmas carols during the holiday season to standards and show tunes that older patients might recognize.
Membership has grown in recent years. From just a handful in 1996, there are now about 96 students on the rolls.
Mihnuet links the music and public service worlds. Kim said her experience with Mihnuet has fueled her interest in public service. A biology concentrator, Kim said she plans to seek a fellowship with a nonprofit organization after she graduates this spring.
"It's definitely been one of the most important if not the most important thing I've done (while at Harvard)," Kim said. "It's been inspiring. It's really opened my eyes as far as career paths go."
For at least some members of Mihnuet, the Harvard experience is building on experience they had in high school. Both Kim and Brodin said they did similar work before coming to Harvard.
"It's so rewarding," Brodin said. "When we were Christmas caroling at New England Baptist Hospital, afterward we could see tears in (one man's) eyes. It's things like that that make it different from performing. You immediately see the reaction of the people.
"It's just a wonderful feeling to know they look forward to you coming in," Brodin said.
On Saturday, Feb. 9, a benefit showcasing Mihnuet's musicians, "The MIHNUET Black Tie Recital," will take place in the Junior Common Room, Kirkland House, 95 Dunster St. Tickets are $6 and available at the Harvard Box Office (617) 496-2222.