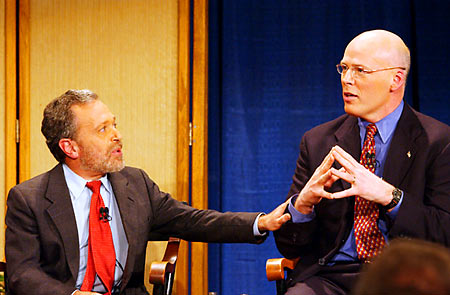 Five Massachusetts Democrats running for governor squared off on environmental issues Tuesday evening (Feb. 19), trading compliments, jabs, and even the occasional joke amidst talk of preserving open space, cleaning up Bay State waters, and disposing of ever-larger heaps of trash.
The candidates, all experienced politicians, each sought to distinguish themselves from the others in a somewhat cordial debate before a packed ARCO Forum crowd of more than 300.
The hourlong affair, aired live on New England Cable News (NECN), was sponsored by the Massachusetts Environmental Collaborative, New England Cable News, and the Kennedy School of Government's Institute of Politics.
It featured a panel of questioners, which included three journalists and James Hoyte, lecturer on environmental science and public policy. The panel addressed the candidates in a first round of questions and then, in a second round, the candidates were able to ask each other questions. The debate's format, which had different candidates answering different questions on different environmental issues, provided watchers with a sampling of the candidates' environmental positions, but didn't allow for much side-by-side comparison of stands on particular problems.
Each candidate professed a commitment to the environment, with State Treasurer Shannon O'Brien calling herself the "environmental treasurer" and former U.S. Labor Secretary Robert Reich joking that, since he's short, he uses fewer resources and would be a more environmentally friendly choice as governor than a taller candidate.
O'Brien and Reich, who is also a former Harvard professor, were joined on the dais by state Senate President Thomas Birmingham, former state Sen. Warren Tolman, who ran for lieutenant governor in 1998, and Steve Grossman, former Democratic National Committee chairman and a Massachusetts businessman.
The debate was moderated by NECN anchors Margie Reedy and Chet Curtis.
The debate itself was mostly courteous, with candidates sometimes agreeing wholeheartedly and, despite the occasional jab at a rival's record, avoiding personal attacks. Birmingham summed up the collegial atmosphere toward the debate's end.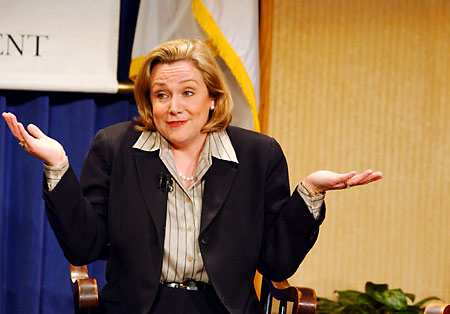 "I think that a forum like this tends to make us accentuate our differences to emphasize what may be relatively narrow areas of disagreement because I think we as Democrats have much more common ground and we have been fighting generally against Republican administrations for the environmental cause," Birmingham said.
Birmingham was the favorite target for opponents during the debate, who questioned his legislative record on the environment – particularly the legislature's failure to override a gubernatorial veto of a clean beaches bill – and his ability to make the transition from a legislative leadership post to that of an executive.
Birmingham appeared unrattled by the criticism, replying that overrides are first taken up by the state House, which declined to act on the beach legislation, effectively killing it before the Senate could act. Birmingham said he is proud of his record on the environment and cited several pieces of legislation – from money for open space preservation to legislation to clean up polluted urban "brownfields" – passed while he has been Senate leader.
Reich provided several moments of levity during the debate, including his response after Grossman challenged him to match Grossman's pledge to make Massachusetts energy resources 20 percent renewable by 2020.
"If you pledge 20 percent by 2020, I will pledge 21 percent. Nobody's going to out-renewable-energy me," Reich said, going on to tout Massachusetts' high technology industry and propose using government seed money to spur development of renewable energy technologies.
After Reich's comment, Grossman retorted that he didn't want to get into a bidding war with Reich, but commented that Reich had been less enthusiastic about renewable energy when asked about the proposed windmill farm off the Cape Cod coast during a recent debate on the Cape.
Judging from their responses, each of the five will strive to be an "environmental" governor. Birmingham sounded the fiscal alarm right off the bat, however, saying that if pending state income tax cuts aren't delayed, the points made during the debate would be moot, as there wouldn't be any money for environmental programs.
Several candidates spoke of improving enforcement of existing environmental regulations, with Reich declaring that he'd increase penalties and deny government contracts for polluters.
Tolman pledged to review the siting of incinerators and other polluting facilities so they don't affect poor communities disproportionately. He said representatives of those communities should have a say in siting decisions, and communities that already host such facilities should not have more built nearby.
Grossman suggested several solutions to the state's commuting woes. In order to get more people onto public transportation, he suggested extending the Blue Line north to Lynn and the commuter rail south to Fall River and New Bedford. While those extensions would provide incentives for more to use public transportation, he said an even better solution would be to encourage business development outside the Boston metro area to keep local residents closer to home.
The Big Dig promises to create new corridors of open space, but the project's financial problems have brought the fulfillment of those promises into question. O'Brien said she would ensure those promises are kept and added that she supports state, rather than local, leadership in using the open space created by burying the Central Artery in downtown Boston. Boston should have a prominent place at the table, O'Brien said, but as people from across the state have helped pay for the project, they should have a say in what is done.
To deal with solid waste, several candidates supported increased recycling. Tolman had the only specific recycling proposal – expanding bottle deposit requirements to other types of bottles. Tolman also said recycling should be handled through education, and state residents have to be taught why recycling is important. Reich supported opening new, better-designed landfills that would prevent leaching outside the landfill site into aquifers and surface water sources.
IOP Director David Pryor opened the debate. As the former governor of Arkansas, Pryor said he knows the challenge of the governor's office and the sacrifice the candidates are making and thanked them. He said the Institute of Politics exists to inspire students to go into similar government service and that he hoped some in the audience would one day take their places on stage.
"It is our hope this evening, it is our expectation, that many of you in the audience … will one day yourself participate in an event like this," Pryor said. "It is not the easiest path in life to choose, but it is a noble pursuit."