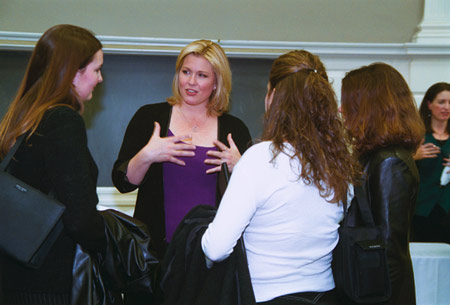 Was that puff of air a collective sigh of relief? Around campus, are shoulders lower, arms swinging more freely, steps springier?
If so, Caring for the Harvard Community – a week of workshops and lectures targeting the mental health of students as well as the faculty and administrators who surround them – could be considered a success.
And for the lingering furrowed brows and knotted backs, there's help. Lots and lots of help.
"The take-away message is that there is help here, [and seeking it] is the right thing to do," said Provost Steven Hyman, whose office oversaw Caring for the Harvard Community. "It's not a sign of weakness, it's a sign of wisdom."
Keynote speaker Edward Hallowell brought home Hyman's message in his talk last Thursday (Feb. 21) called "Staying Connected When Life Is Challenging." Hallowell, a psychiatrist, author, and lecturer at Harvard Medical School, addressed a dilemma common to many in the overachieving Harvard community: Is it possible to perform at your peak and have a fulfilling life?
Not only is it possible, said Hallowell, it's essential. "The old notion [that] in order to achieve excellence you must sacrifice yourself on a cross of work I think is certainly wrong," he said.
Staying connected – reaching out for help, leaning on others when times get tough, maintaining a healthy perspective and a balanced life – is the key to well-being, said Hallowell. Bad things will always happen, he assured the audience, but "the feeling of connectedness is a feeling of safety in the world … that no matter what happens, there's nothing that as a team we can't handle."
Demystify, destigmatize
All week, intimate workshops in dorms, houses, and office conference rooms underscored Hallowell's message of caring and connectedness for groups of students and staff. "These events try to demystify and destigmatize the idea of caring for each other and asking for help," said Hyman.
On Friday (Feb. 22), University Health Services mental health service director and psychiatrist Richard Kadison joined a group of Graduate School of Arts and Sciences (GSAS) administrators in the Dudley House Common Room to help them navigate the choppy waters of graduate students in need.
In his talk, called "How Can I Help?", Kadison outlined some of the most common mental health issues for graduate students. Sleep problems and depression can be hard to tease apart, he said, and graduate students commonly get into a sleep-deprived rut: They cheat on sleep to complete work, but lack of sleep makes them less effective so they sleep even less to get even more work done.
Graduate students, like undergraduates, are especially vulnerable to depression, which usually presents itself between the late teens and early 20s, Kadison said. While predisposition to depression is largely genetically determined, environmental stress can trigger its onset. "You come to grad school, you make no money, you work all the time … how could that be stressful?" he asked rhetorically.
Workshop participants were eager for specific ways they could help a student they thought was in trouble, which Kadison acknowledged was one of the most difficult things to do. "Saying, 'I think you're depressed, you should go to the mental health service' is not the best approach," he said.
Rather, he suggested that staff members talk to the student, describing changes that have aroused their concern: "I notice you're exhausted a lot lately."
"Remind people that these are common problems that happen to everyone," he said. "You don't have to be crazy to talk to a mental health professional."
For Laura Malisheski, assistant director of Ph.D. advising in the Office of Career Services, Kadison's talk hit home. "Ever since I started being a counselor, I've always had a worry in the back of my mind that I wouldn't catch someone in need," she said. "I feel better equipped now."
Focus on eating disorders
Eating Disorders Awareness Week began as Caring for the Harvard Community activities drew to a close. "Culture, the Media, and Eating Disorders: Reclaiming Our Culture," a forum at the Graduate School of Education Monday night (Feb. 25) that was sponsored by the Harvard Eating Disorders Center, linked the two events with a lively discussion of a topic on the front lines of student mental health issues.
The forum, coordinated by the Harvard College student-run organization Eating Concerns Hotline and Outreach (ECHO) and the Office of Student Affairs at the GSE, introduced three women with three very different perspectives on eating disorders.
Supermodel and television personality Emme; Bureau of Study Counsel psychologist Sheila Reindl Ed.D., author of "Sensing the Self: Women's Recovery from Bulimia"; and Academy Award-winning filmmaker Margaret Lazarus, producer of films about advertising and women's body image shared the stage. WBZ/Channel 4 health reporter Mallika Marshall, M.D., moderated.
Emme spoke candidly of her long journey to self-acceptance through dieting, bingeing, overexercising, and ultimately, therapy. Citing alarming statistics – 80 percent of American women report that they are dissatisfied with the way they look, dieting is a $50 billion industry with a 98 percent failure rate – Emme has become an outspoken advocate for physical and mental health.
"It's our responsibility … that we use our voices with the advertisers, with the media, with our parents," she said.
Reindl drew from her interviews with women recovering from bulimia to present perspectives on the roots of eating disorders. When she was researching her book, she said, women told her repeatedly that a disconnection from themselves – their needs, desires, and physical and emotional hunger – led to their battles with bulimia. "A really deep and abiding sense of shame," said Reindl, had prevented these women from "sensing themselves."
Lazarus has created three films about images of women in the media and advertising. She screened a clip from her most recent film in the "Killing Us Softly" series, called "Beyond Killing Us Softly: The Strength to Resist." In it, gender experts such as Gloria Steinem and Carol Gilligan share the screen with pre-teen girls and Britney Spears videos to explore the damaging impact the media has on women's body image.
'Not a one-shot deal'
Reflecting on this year's Caring for the Harvard Community, the second annual but first under his auspices as provost, Hyman called the events successful, commending the work of his office's Student Health Coordinating Board, University Health Services, Bureau of Study Counsel, and all of those at Harvard who care for students' well-being.
He cautions, however, that the work is not done. "The important thing is that this not be a one-shot deal," said Hyman. "We must continue to be focusing on these issues all year long."