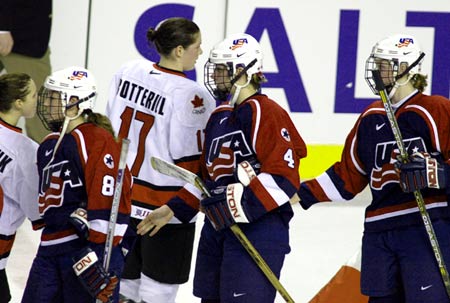 With five Harvardians divided between Team Canada and Team USA (six including U.S. coach Ben Smith '68), last Thursday's Olympic championship game in women's hockey was guaranteed gold for the Crimson hockey program. For Canadian Jennifer Botterill '03, it was also a bit of redemption. As the youngest member of the 1998 silver-medal team in Nagano, Botterill's wait for gold finally ended with a 3-2 upset of the favored Americans, ending the Yanks' 8-0 dominance over the Canadians (in pre-Olympic competition).
In killing a seemingly endless stream of power plays, the underdog Canadian team, who never trailed in the game, secured its first gold medal ever with the victory. Teammate Tammy Shewchuk '01, skating in her first Olympics, also captured gold with the Canadian squad.
Rounding out the Crimson Olympic contingent were Angela Ruggiero '04, A. J. Mleczko '99, and Julie Chu '06. Ruggiero, named best defenseman of the tournament, Mleczko, and Chu – deferring her freshman year to compete in Salt Lake – won silver for Team USA. Botterill, Ruggiero, and Chu will bind their allegiance next season with the Crimson.